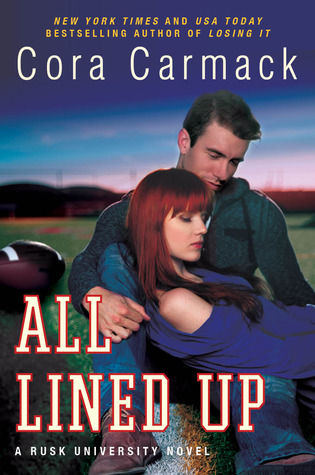 Author: Cora Carmack
Publication Date: May 13, 2014
Publisher: William Morrow Paperbacks
Series: Rusk University # 1
New York Times
and

USA Today

bestselling author Cora Carmack follows up her trio of hits—Losing It, Faking It, and Finding It—with this thrilling first novel in an explosive series bursting with the Texas flavor, edge, and steamy romance of Friday Night Lights.

In Texas, two things are cherished above all else—football and gossip. My life has always been ruled by both.

Dallas Cole loathes football. That's what happens when you spend your whole childhood coming in second to a sport. College is her time to step out of the bleachers, and put the playing field (and the players) in her past.

But life doesn't always go as planned. As if going to the same college as her football star ex wasn't bad enough, her father, a Texas high school coaching phenom, has decided to make the jump to college ball… as the new head coach at Rusk University. Dallas finds herself in the shadows of her father and football all over again.

Carson McClain is determined to go from second-string quarterback to the starting line-up. He needs the scholarship and the future that football provides. But when a beautiful redhead literally falls into his life, his focus is more than tested. It's obliterated.

Dallas doesn't know Carson is on the team. Carson doesn't know that Dallas is his new coach's daughter.

And neither of them know how to walk away from the attraction they feel.
I don't know that dancing fixes anything. I don't feel magically happy because of it. My problems don't disappear when the music ends. But I understand life better when I dance, and understanding is half the fight of surviving.
It's like she took the scream right out of my throat. I've been out here alone, alternating between convincing myself to leave and convincing myself to stay. And here comes this gorgeous girl with a lion's roar.
In Texas, two things are cherished above all else – football and gossip. My life had always been ruled by both.
Cora Carmack is a wonderful storyteller and her title remains as she begins this brand new series set at a fictional Texas college: Rusk University. Carmack truly captures the blood, sweat, and tears that make up a college town, especially a college town focused around their football. I do not even like or know that much about football, but this book was not confusing and actually helped me understand why people get so worked up over it in the first place. Dallas Cole's life has revolved around football, but she no longer wants it to. She hopes that college will be a brand new start for her. That is until she finds out that her dad is now going to coach college football and her ex-boyfriend, who is also a football star, will be attending the same college as her. Dallas just wants a boy to like her for who she is not just so he can get in good with her daddy and become a starter on the team.
Dallas meets Carson and starts to fall for him long before she realizes that he plays on the football team. Carson is a true gentleman and really seems to care for Carson. His drive and determination for the sport were enough to keep him going any day until he met Dallas, then he had a new reason for waking up in the mornings. Their relationship was very sweet and swoon worthy. New adult fiction draws me in rather quickly and so far I have not found one book that I have not enjoyed. This romance was much the same as the others: fast-paced, charming, and had a dash of drama and intrigue thrown in the mix.
What most intrigued me about this book was that it was not solely based on the love affair going on between Dallas and Carson. The book also touched on the relationship that Dallas shared with her father too. Dallas' father was a great character and not as bad as she made him out to be at times. I loved the romance in this book, but I was also glad to see family being thrown into the mix as well and I loved the connection between Dallas and her dad. Their relationship needed some love and attention and I was happy to see the two of them work together to work things out!
Overall, I am very eager and excited for the next book in this series to be released! I loved the Texas town and all the wonderful characters that were introduced to us in this first installment!
***A free copy of this book was provided to me by the publishers at William Morrow Paperbacks in exchange for my honest review***