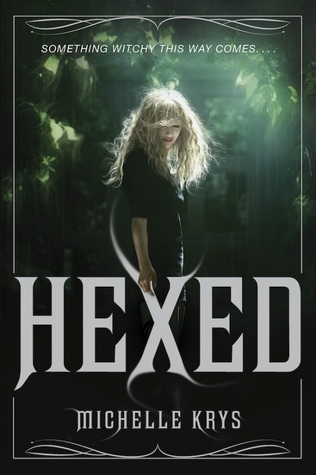 Author: Michelle Krys
Publication Date: 10, 2014
Publisher: Delacorte Press
If high school is all about social status, Indigo Blackwood has it made. Sure, her quirky mom owns an occult shop, and a nerd just won't stop trying to be her friend, but Indie is a popular cheerleader with a football-star boyfriend and a social circle powerful enough to ruin everyone at school. Who wouldn't want to be her?
Then a guy dies right before her eyes. And the dusty old family Bible her mom is freakishly possessive of is stolen. But it's when a frustratingly sexy stranger named Bishop enters Indie's world that she learns her destiny involves a lot more than pom-poms and parties. If she doesn't get the Bible back, every witch on the planet will die. And that's seriously bad news for Indie, because according to Bishop, she's a witch too.
Suddenly forced into a centuries-old war between witches and sorcerers, Indie's about to uncover the many dark truths about her life—and a future unlike any she ever imagined on top of the cheer pyramid.
Exactly twelve minutes into cheerleading practice, and I already wish I were dead.
The dead guy was coming to our shop.
So, slight problem with the plan: I have absolutely no clue where to start.
They've got Mom. Evil sorcerers have got Mom, and I'm trapped in some invisible mime-box.
Hexed reminded me a little bit of Rachel Hawkins's Hex Hall Series, and everyone needs a good witchy read now and then. This book was fun, fast-paced, and had a great young voice as the lead and to guide readers through many terrifying adventures. I finished the book after one day and am already excited for the next book in this series to be released. The story and plot were well-paced and this was a nice little jump into an alternate world. This book is what I would definitely call a summer read, and even though not everyone will like it, it's got something for everyone!
Indie is our main character and when we meet her she is just a normal teenage girl worried about what we might think are meaningless things. She worries about keeping her popular, snobby best friend happy and holding on to her boyfriend, much like many other girls do. However, Indie's world changes very quickly and so does she. She never comes off as being invincible or even tries to hide her weaknesses and fears. She freely admits them and faces them. She was a stand up main character!
Michelle Krys is very witty and her book is full of humor and scenes that will make you laugh out loud. I love books that have the main characters dealing with very serious matters, but still find time to be funny. The book has a little bit of everything, as I mentioned, before. It has drama, mystery, a little bit of romance, and a lot of laughing moments. So even if you didn't like the entire book, you might still find that there are parts that suited you nicely!
***A free copy of this book was provided to me by the publishers at Delacorte Press in exchange for my honest review***