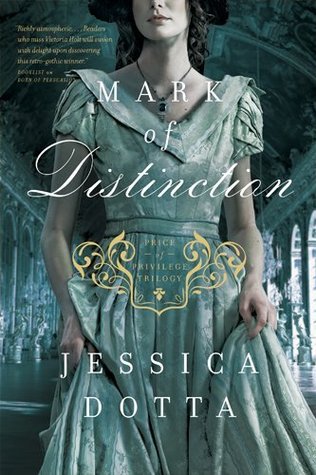 Author: Jessica Dotta
Publication Date: May 1, 2014
Series: Price of Privilege # 2
London is said to be the glittering jewel of society, a world unto itself—but to Julia Elliston it is a city of shadows. Her life is swiftly dissolving into scandal. And in Victorian society, even a whisper of scandal—substantiated or not—can be the death of a young woman's reputation.
When Julia discovers that Lord Roy Pierson, her guardian and one of most influential men in England, is the father she has never met, she begrudgingly accepts his protection. But Chance Macy's power is far-reaching as well.
Thrust into society as the Emerald Heiress, Julia is the toast of London, a celebrated curiosity. But in reality she's trapped between the clutches of two powerful men. Aided only by a gentleman whose intentions she prays she can trust, Julia must finally take control of her own fate—but outwitting one's foe rarely goes according to plan.
Truth comprised of bare facts is rarely more flattering than legend.
I had no idea my story would cause such an uproar.
London is not the same city that it was then.
Then, like a true member of the gentry, unaffected by the ripples of change, he rose, bowed, and left.
These books are truly written with the appeal of a Jane Austen or Charlotte Bronte novel. Victorian society is always one of my favorites to read about because of the vintage feel it always brings. Not only that, but also for the scandal that usually accompanies any mystery set in this era. Julia Elliston's story and life have captivated and I cannot believe that I have to wait for the third book in this series to be released. This is why I usually wait for the entire series to be released before I begin reading; I cannot stand the anticipation.
My favorite stories about the Victorian era usually have to do with the scrutiny that women were placed under during the time. Julia's life is much like this. A women's reputation could easily be diminished in this time because women had a place and role and anyone who dare stepped outside of that would be immediately ostracized. Julia is a brilliant character whom I love following around the streets of London. She knows how to manipulate the world she lives in, and she quickly realizes that it is a man's world. Her character is so "gutsy", for the lack of a better world, and I like to think that if I had lived in this time period I would have been just like her.
I must admit that I was scared that the sequel would not live up to the first book in this series, which I read last year. However, I devoured this book just like I did with Born of Persuasion. I laughed and gasped and did everything in between. You know it is a good book, or in this case series, when you are thinking about the plot and the characters long after you have put the book down. Jessica Dotta, I have to meet you because you are brilliant!
***A free copy of this book was provided to me by the publishers at Tyndale in exchange for my honest review***