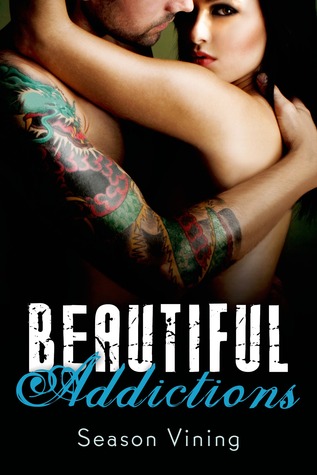 Author: Season Vining
Publication Date: June 10, 2014
Publisher: St. Martin's Griffin
Josie Banks is a girl without a past. After being found unconscious with no memory, she was shuffled in and out of foster homes where she suffered years of abuse. An experience that left her broken, damaged, and clinging to drugs and meaningless hook-ups to numb her pain.
When Josie disappeared years ago, she took a piece of Tristan with her. She's the girl he thought he lost forever—the one he's never been able to forget. Now a twist of fate has brought them back together, and he never wants to let her out of his inked arms again. But Tristan is haunted by a dark past of his own. On the run from ruthless criminals that shattered Josie's world years ago, reentering her life puts them both in danger.
As Josie and Tristan's lives become tangled once again, they find themselves unwilling and unable to escape the relentless pull that draws them together. But in Season Vining's

Beautiful Addictions, will the past leave their love in ruins—or bind them together for a lifetime?
"I want you. All of you. I want to possess you. I want to love you and protect you."
"The magic of first love is our ignorance that it can ever end."
"My past is not mine. I don't want it."
The New Adult genre has really enraptured me this year and I am constantly looking for more of these books to add my shelf. Beautiful Addictions is a bit darker and more twisted than any other book that I have read in this genre so far. Josie Banks doesn't know a lot about her past or who she really is for that matter. She was found as a young child after her father was murdered and quickly processed through the foster system. Josie is thrown into the world and becomes defensive and easily hurt. She discovers a profound interest in art and begins to create her own graffiti art that is rather extraordinary. Josie becomes enamored with a local tattooed bartender named Tristan and something about him seems oddly familiar. Tristan knows exactly who Josie is and he remembers their childhood very vividly. He has loved her all his life and thought he would never find her again.
Season Vining does a wonderful job with Josie. She was my favorite character and I was so compelled and emotionally connected to her. She seemed so lost and alone and of course I was constantly rooting for her and hoped that she would find her own happy ending. When Tristan entered onto the scene I found myself liking Josie all the more. They had such a bonding chemistry because both of their pasts are full of pain, loss, and loneliness. It was really easy for me to picture both of these characters in my mind. The descriptions were very vivid and really drew me into the story.
I felt that the beginning of this book was extremely fast-paced and I really loved it. Once I got about halfway through things started to slow down a little bit for me and I ran across a few things that I didn't like, but the things that I loved about this book seemed to balance it out for me. The book is told in multiple POV's and I would have like it so much better if only the two main characters were the ones contributing to the storyline instead of some of the secondary characters as well. It felt a little chaotic at times, but it was a great start, as it was a debut novel, for Vining. The things I did not enjoy so much would not keep me from picking up another book written by this author.
***A free copy of this book was provided to me by the publishers at St. Martin's Griffin in exchange for my honest review***