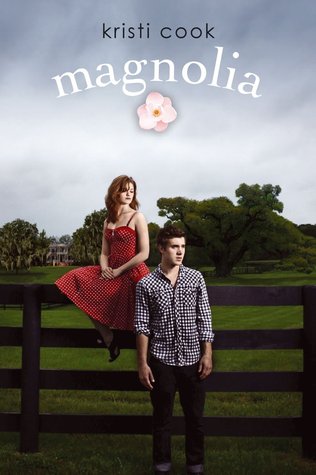 Author: Kristi Cook
Publication Date: August 5, 2014
Publisher: Simon Pulse
In Magnolia Branch, Mississippi, the Cafferty and Marsden families are southern royalty. Neighbors since the Civil War, the families have shared vacations, holidays, backyard barbecues, and the overwhelming desire to unite their two clans by marriage. So when a baby boy and girl were born to the families at the same time, the perfect opportunity seemed to have finally arrived.

Jemma Cafferty and Ryder Marsden have no intention of giving in to their parents' wishes. They're only seventeen, for goodness' sake, not to mention that one little problem: They hate each other! Jemma can't stand Ryder's nauseating golden-boy persona, and Ryder would like nothing better than to pretend stubborn Jemma doesn't exist.

But when a violent storm ravages Magnolia Branch, it unearths Jemma's and Ryder's true feelings for each other as the two discover that the line between love and hate may be thin enough to risk crossing over.
Glancing out my window, I hold up my finger and thumb, creating a little frame around Ryder Marsden, who stands outside on the lawn below. I close one eye to get the illusion just right and then pretend to squash him. Take that.
I shake my head. "Mama's going to have their hides for making such a racket."
Maybe there's a chance I'll get that other life I imagined, after all.
Then yeah, I'll admit it – I allow myself a nice long look at his backside as he walks away from me. And let me tell you, it was well worth the look.
In Magnolia Branch, Mississippi we have a little taste of Southern royalty. Which of course is right up my alley! The Cafferty and the Marsden families are old friends who share many aspects of life together. So of course when one of them has a boy and the other has a girl, around the same time, they get the bright idea that the two will be joined in marriage one day. There is only one small problem: Jemma and Ryder hate each other extremely.

I love when this happens in books and this one was no exception. What also made for an interesting twist was the fact that Jemma and Ryder were stuck together because of a huge violent storm that tore through Mississippi.
Besides being incredibly adorable and filled with more Southern charm than I can handle, this book is an extremely fast read. It is light and the character's actions and dialogue make everything go a lot faster as well. Jemma's voice, especially, is one of my favorite parts about this book. She turned out exactly how I pictured her from the start and I think her attitude and a lot of her actions fit the personality that Cook was trying to build for her. Reading through Jemma's eyes is like reading her diary, and those are always some of my favorite types of books to read. Jemma is very realistic and is always able to admit when she has made a mistake. Loved this about her!
This book brings a little bit of everything and wraps it all into one. We have teen issues, familial relationships, a lot of sexual tension between our two love interests, romance, and an unbelievably awesome setting. The end of the book became a little too predictable, but I am still a huge fan of what Cook has concocted here. I cannot wait for more from her, and I hope she is willing to write more stories with characters like these who build as much sexual tension as these two did! This romance was so steamy and was well-paced!
***A free copy of this book was provided to me by the publishers at Simon Pulse in exchange for my honest review***