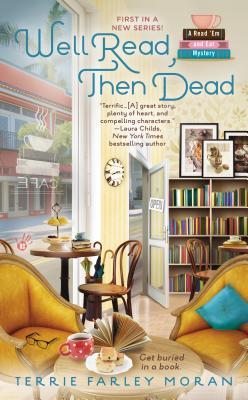 Author: Terrie Farley Moran
Publication Date: August 5, 2014
Series: A Read 'Em and Eat Mystery # 1
First in a new series!
Nestled in the barrier islands of Florida's Gulf Coast, Fort Myers Beach is home to Mary "Sassy" Cabot and Bridget Mayfield—owners of the bookstore café, Read 'Em and Eat. But when they're not dishing about books or serving up scones, Sassy and Bridgy are keeping tabs on hard-boiled murder.
Read 'Em and Eat is known for its delicious breakfast and lunch treats, along with quite a colorful clientele. If it's not Rowena Gustavson loudly debating the merits of the current book club selection, it's Miss Augusta Maddox lecturing tourists on rumors of sunken treasure among the islands. It's no wonder Sassy's favorite is Delia Batson, a regular at the Emily Dickinson table. Augusta's cousin and best friend Delia is painfully shy—which makes the news of her murder all the more shocking.
No one is more distraught than Augusta, and Sassy wants to help any way she can. But Augusta doesn't have time for sympathy. She wants Delia's killer found—and she's not taking no for an answer. Now Sassy is on the case, and she'd better act fast before there's any more trouble in paradise.
"Miss Augusta, Miss Delia, the end of hurricane season is coming up fast. Could you help me pick a date? Plan the End of Hurricane Season party?"
Thunder rat-tat-tatted like gunfire. I opened one bleary eye. Not thunder. Bridgy banging on my bedroom door.
We loved putting together book-related events, such as the Potluck Book Club, which focused on cookbooks and foodie novels like Julie and Julia.
This brand new series takes readers to Florida's Gulf Coast on Fort Myers Beach where the author really embraces the culture, beauty, and charm of the Florida coastline. I must say that this area really came alive for me and I really enjoyed the culture and the tourist area that it was written to be. The series centers around best friends Sassy and Bridget, or "Bridgy", who have recently moved all the way from Connecticut to Florida to open up a bookstore and café called Read 'Em and Eat. A lot of the regular customers enjoy participating in the book clubs and ladies such as Augusta Maddox and her cousin Delia Batson can always be found dawning the doors. Well, that is until Delia is found dead in her home and Augusta enlists Sassy and her best friend to solve the mystery and figure who could possibly have wanted Delia dead.
The plot and storyline was clever and I most enjoyed followed our new heroine, Sassy. There were many moments where I found myself talking to her as I was reading. I was on the edge of my seat during certain scenes and the descriptive detailing really makes you feel like you are in a movie. This series is going to provide readers with a crazy cast of characters and I cannot wait to see who comes into the bookstore/café next. The idea of a bookstore and a café is appealing to me because it gives readers the best of both worlds. The café has tons of book-related menu items that are just so cute to read about. I am really excited for where this series will go!
***A free copy of this book was provided to me by the publishers at Berkley in exchange for my honest review***