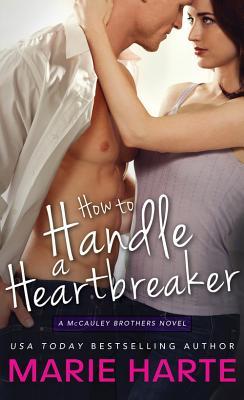 Author: Marie Harte
Publication Date: August 5, 2014
Publisher: Sourcebooks Casablanca
Series: The McCauley Brothers # 2
It's lust-at-first-sight when Brody Singer first sees Abby Dunn. Abby looks a lot like a woman he once knew, one who died years ago. But Abby's definitely different—shyer but sexier.

Abby's still trying to put her last disastrous relationship behind her and overcome the flaws her ex wouldn't let her forget. But somehow Brody isn't getting the hint. It doesn't help that when writing her steamy novels, she keeps casting Brody as the hero.

Only Abby can write her own ending—will she choose her own happily-ever-after, or stay safe in her shell?
She hated overthinking things. One of her biggest flaws.
And then he had to find a way to figure out just where the hell this thing was going. Because it felt anything but casual.
She'd started to step off that cliff, and if she fell this time, she didn't think she'd recover.
Brody had won their contest. She was well and truly hooked. Hell.
It was so enjoyable getting to read Brody's story. Brody is the adopted McCauley brother and has quite a twisted past, but thanks to the McCauley family he got a chance at a better life. Abby Dunn is his love interest and she has quite a few insecurities of her own, mainly because of her ex. I think Brody and Abby's story is my favorite so far. They really even each other out and are a great fit. This series is very captivating and I am very excited to see where it goes next. We all need those books that allow us to escape, if only for a day. These series is steamy and full of drama. It's a nice little treasure for a rainy day!
These two built up a lot of sexual tension in this book, but finally they gave in to temptation and have quite a few adventures together. They have a lot of commonalities, which makes their relationship even more likeable, because they both come from harsh backgrounds. They have obstacles to overcome and must learn to trust each other. Brody is a fascinating character because of all he has been through with his biological family; his issues are much more severe than Abby's. Harte really built Brody's character by showing how he has overcome his past. I really enjoyed seeing that and seeing him become a man.
Abby had a lot of confidence issues, but I must say that I came to love her even more than I loved Maddie in book one. At first I thought Abby was going to be extremely shy and meek, but she quickly learned to fight past all of that. I really enjoyed the trials that Brody and Abby both overcame that led them to each other. Once they started to work as a team, this book became even better than it already was. I am very excited for the next book and I don't think I have to wait very long for it to come out.
***A free copy of this book was provided to me by the publishers at Sourcebooks Casablanca in exchange for my honest review***