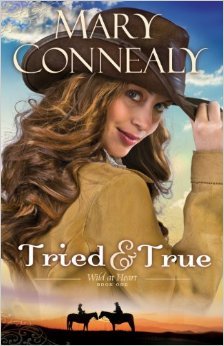 Author: Mary Connealy
Publication Date: September 2, 2014
Publisher: Bethany House Books
Series: Wild at Heart # 1
Saddle up for a wildly fun ride with the Wilde sisters!

Kylie Wilde is the youngest sister—and the most civilized. Her older sisters might be happy dressing in trousers and posing as men, but Kylie has grown her hair long and wears skirts every chance she gets. It's a risk—they are homesteading using the special exemptions they earned serving in the Civil War as "boys"—but Kylie plans to make the most of the years before she can sell her property and return to the luxuries of life back East.

Local land agent Aaron Masterson is fascinated with Kylie from the moment her long hair falls from her cap. But now that he knows her secret, can he in good conscience defraud the U.S. government? And when someone tries to force Kylie off her land, does he have any hope of convincing her that marrying him and settling on the frontier is the better option for her future?
Good grief, she'd lived through a Civil War battle. How could climbing on a roof bother her so much?
She threw her arms around his neck. The only solid thing in the whole wide world. And she cried.
Strange woman. Strange and fascinating. Strange and fascinating and beautiful.
Today was the beginning of a new day and a new life. She felt reborn. She was a woman and she was going to live like one, and no one was going to stop her.
A brand new series by Mary Connealy about three sisters portraying themselves as men, serving in the Civil War, and claiming land out West; what could be more interesting to read? As all my loyal readers know, I love stories about sisters. This new series is going to feature the Wilde sisters: Kylie, whom this book is about, Shannon and Bailey. Kylie is unlike her sisters in one regard; she is tired of pretending to be a man. She wants to wear her hair long and wear long, flowy skirts and she doesn't know how much more she can take. Aaron Masterson, our male lead, puts a damper on the Wilde sister's plans when he comes calling one day on business and discovers their secret. Will he, in good conscience, be able to pretend he doesn't know what they are doing and lie to the U.S. government?
I want to back up a minute and make sure you understand why Kylie and her sisters were dressing up and parading themselves as men. Their older brother Jimmy was killed and their father encouraged them all to dress up as men and enlist to serve, hoping they would take revenge on the men that murdered their brother. The girls are all noble and do as he wishes. The girls all have brave, strong hearts and I admired their dedication to their father and their deceased brother. Kylie and her sisters attempted to do things that women were just not allowed to do in the 1880's. They served in the Civil War, built their own cabins, and tried their hand at living off the land out West. While the book was fiction, it was still inspirational and had a great message behind it centering on family and dedication.
Connealy's writing is extremely detailed and very realistic. She submerses readers in the wild, wild West by allowing them to experience everything that the Wilde sisters encounter. My grandmother was always a huge fan of books set in the West, but it was just never my cup of tea. However, I have to retract that statement upon reading and finishing this book. I now have a brand new appreciation for this setting. I am very much looking forward to the next book in this series, but I cannot decide which sister I want to read about more. If the romance was as heartwarming and the action was as mind blowing, then it will not matter to me whose story I get next!
***A free copy of this book was provided to me by the publishers at Bethany House in exchange for my honest review***