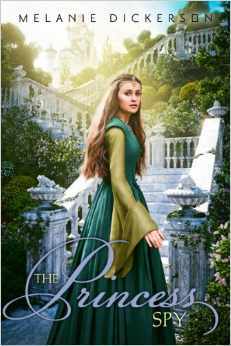 Author: Melanie Dickerson
Publication Date: November 4, 2014
Margaretha has always been a romantic, and hopes her newest suitor, Lord Claybrook, is destined to be her one true love. But then an injured man is brought to Hagenheim Castle, claiming to be an English lord who was attacked by Claybrook and left for dead. And only Margaretha---one of the few who speaks his language---understands the wild story. Margaretha finds herself unable to pass Colin's message along to her father, the duke, and convinces herself 'Lord Colin' is just an addled stranger. Then Colin retrieves an heirloom she lost in a well, and asks her to spy on Claybrook as repayment. Margaretha knows she could never be a spy---not only is she unable to keep anything secret, she's sure Colin is completely wrong about her potential betrothed. Though when Margaretha overhears Claybrook one day, she discovers her romantic notions may have been clouding her judgment about not only Colin but Claybrook as well. It is up to her to save her father and Hagenheim itself from Claybrook's wicked plot.
Margaretha couldn't stop thinking about the poor young Englishman who had been brought to Frau Lena's chamber.
Margaretha left her, feeling an urgency to pray for the poor young man who seemed so lost.
"I am the happiest when I can hear your voice."
"And I thank God that you love me."
Melanie Dickerson's stories never disappoint. I have been following her work for years and will continue to do so; each story continues to amaze me and entrance me as a reader. This book has more of a slow pace, but this is no complaint because Melanie's writing is so rich and vivid that you want to savor every minute that you are involved in the lives and actions of her characters. The romance in this book blossomed slowly and it is always nice to get to know the main characters before they fall in love with each other. This book is perfect for teenage girls, as the message is to trust God in all aspects and down all paths in life and love. I would suggest Melanie's books for anyone who likes to be removed from reality and doesn't intend to stop reading for a few hours. Her books are impossibly hard to put down and there are so many great ones to choose from.
From teenage girls all the way to young adult women, this story is sure to reach out to most of them, if not all of them. Margaretha, our heroine, is brave, bold, and courageous. Who could ask for more in a female lead? So often when authors write courageous female leads, they seem to be written with a tomboyish flair, but Margaretha does not fit that mold. She was a regular young girl with her head in the clouds at times and had a reputation for being a hopeless romantic. She fits the mold of what a lot of teenage girls go through at one time in their life or another. She is the perfect role model for growing adolescent girls. P.S. I also am hearing that this might not be the last book in this series; read them all as quickly as you can!
***A free copy of this book was provided to me by the publishers at Zondervan in exchange for my honest review***