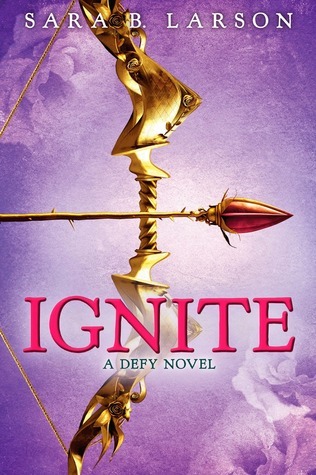 Author: Sara B. Lawson
Publication Date: December 30, 2014
Publisher: Scholastic Press
Murder, kidnapping, and forbidden romance abound in this thrilling sequel to Sara B. Larson's acclaimed YA debut, DEFY.
Alexa continues to harbor a secret love for the newly crowned King Damian, yet she remains by his side as his guard and ever committed to helping him rebuild Antion and reclaim the hope of Antion's people. However, when a new threat to Damian and his kingdom emerges, and blame is cast on the once friendly nation of Blevon, Alexa knows things are not what they seem. Once again the fate of her country hangs in the balance. Will Alexa be able to protect her king and uncover the true enemy -- before it's too late?
"Because sometimes we are needed to stay, and sometimes it's better if we go somewhere else."
The pain from my scars had eased over the last month, but it was still there. A constant reminder of the battle I'd fought against Iker.
My heart jumped into my throat and my fingers tightened around the hilt of my sword.
This book picked up right where the first one, Defy, left off. Fans of Defy will find themselves loving Ignite just as much, if not more. Alexa, our leading lady, has already saved her people and defeated their cruel king, but she is back in this installment for some more action and adventure. This book blew me away with its high fantasy appeal and all the breathtaking romance that goes so perfectly with this world and only wraps you up in the story that much more. The characters are still as intriguing as they were in the first novel, and Alexa, in my opinion, only gets better and better.
The world that Lawson has created has to be my favorite thing about this series so far. Well that and the way that the characters fit into the world and they both continue to build and grow with each new chapter. New conflicts developed in this installment that made things very interesting and added a dangerous twist to the plot. The happenings in this story only made me that much more anxious for the next installment. High fantasy is not my favorite genre because I am usually left trying to keep up with all the elements of the story, but Lawson gives readers a world that is completely wonderful, easy to follow and easy to understand!
***A free copy of this book was provided to me by the publishers at Scholastic Press in exchange for my honest review***