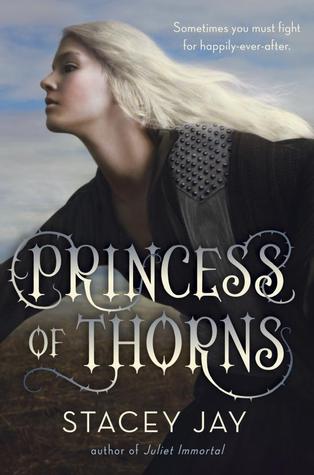 Author: Stacey Jay
Publication Date: December 9, 2014
Game of Thrones meets the Grimm's fairy tales in this twisted, fast-paced romantic fantasy-adventure about Sleeping Beauty's daughter, a warrior princess who must fight to reclaim her throne.
Though she looks like a mere mortal, Princess Aurora is a fairy blessed with enhanced strength, bravery, and mercy yet cursed to destroy the free will of any male who kisses her. Disguised as a boy, she enlists the help of the handsome but also cursed Prince Niklaas to fight legions of evil and free her brother from the ogre queen who stole Aurora's throne ten years ago.
Will Aurora triumph over evil and reach her brother before it's too late? Can Aurora and Niklaas break the curses that will otherwise forever keep them from finding their one true love?
The fairies made her the most beautiful when she was only a baby.
I will never be anyone's girl but my own.
I can practically taste victory, hot and salty on my tongue.
I am as peaceful as a shell filled with the echo of the sea.
A lot of things about this book were right up my alley. The romance was not instant, the action was full of force, and the characters were developed down to a science. Not to mention, there were several hints of many well-loved fairy tales throughout the story. I was surprised at the twists and turns this story took because I had something completely different pictured in my mind. Stacey Jay's writing is beautiful, rich, and deep and it is one of the reasons why I found this book so hard to put down at night. Aurora was one tough heroine; I wouldn't mind reading more characters like her on a daily basis. This was a wonderful fantasy book full of many adventures. Stacey Jay has done it yet again!
The relationship between Aurora and Nikklaas was by far my favorite thing about this story. This is how a love story should be written! Their love/romance was not instant and they both had flaws that the other learned to love and overlook. They both have characteristics that make me love and hate them at the same time. I loved the fact that they would bicker with one another. Their banter was part of the fun of reading! They are stubborn and their tendency to butt heads is what allowed me to relate to them so well; I am just as stubborn as Aurora!
***A free copy of this book was provided to me by the publishers at Delacorte Press in exchange for my honest review***