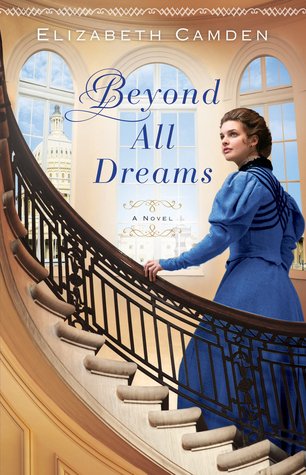 Author: Elizabeth Camden
Publication Date: January 6, 2015
Sweeping and Romantic Historical Drama from an Award-Winning Author
Anna O'Brien leads a predictable and quiet life as a map librarian at the illustrious Library of Congress until she stumbles across a baffling mystery of a ship disappeared at sea. She is thwarted in her attempts to uncover information, but her determination outweighs her shyness and she turns to a dashing congressman for help.
Luke Callahan was one of the nation's most powerful congressmen until his promising career became shadowed in scandal. Eager to share in a new cause and intrigued by the winsome librarian, he joins forces with Anna to solve the mystery of the lost ship.
Opposites in every way, Anna and Luke are unexpectedly drawn to each other despite the strict rules forbidding Anna from any romantic entanglement with a member of Congress.
From the gilded halls of the Capitol, where powerful men shape the future of the nation, to the scholarly archives of the nation's finest library, Anna and Luke are soon embroiled in secrets much bigger and more perilous than they ever imagined. Is bringing the truth to light worth risking all they've ever dreamed for themselves?
What kind of barbarian voted against librarians?
She was doing it again – calming him with her cool wit and steady logic.
She was like a balm on inflamed skin, soothing his frustration and making him think of wild, improbable things like autumn walks in sun-kissed gardens.
Elizabeth Camden's books caught my attention in 2012, and I haven't missed a new publication since. Her newest book, Beyond All Dreams, captures a world and setting that is new to me but that was both intriguing and educational. Anyone who loves and appreciates books as much as I do will of course love this book simply because our heroine, Anna O'Brien, is a librarian working in the Library of Congress. I was mystified with the setting because it was unlike anything I have read prior. Camden perfectly captures the hustle and bustle of what is Washington, DC and allows readers to vividly imagine what life would be like working inside the Library of Congress. Politics is not really my forte, but Camden makes Anna's world inviting and mesmerizing.
Camden is the master of character development. Anna and Luke, our male counterpart to Anna, complement each other's flaws, weaknesses, strengths, and dreams. Luke is a powerful representative for the state of Maine, so the fact that these characters have a political background makes them and their conversations and interactions that much more interesting. Anna and Luke both hold true to their morals and values and I found myself really appreciating this characteristic in both of their characters. This book took me no time at all to read and was utterly satisfying!
***A free copy of this book was provided to me by Litfuse and Bethany House Publishers in exchange for my honest review***