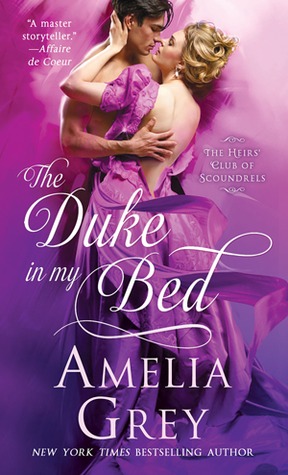 Author: Amelia Grey
Publication Date: December 30, 2014
Publisher: St. Martin's Paperbacks
Series: The Heirs' Club of Scoundrels Trilogy # 1
From bestselling author Amelia Grey comes a wickedly romantic tale of one reckless bachelor, five unwed sisters, and a wildly unconventional game of love…
HERE COMES THE GROOM
As a notorious member of the Heirs' Club, Bray Drakestone can't resist a challenge from one of his well-heeled colleagues—especially when it involves money and horses. But the friendly wager takes an unexpected and deadly turn. Bray is forced to agree to marry one of his challenger's five sisters—sight unseen. Now gamblers all over London are placing bets on whether Bray will actually go through with it…
THERE GOES THE BRIDE
Miss Louisa Prim, the eldest sister, doesn't care a whit what the reckless rogue at the Heirs' Club promised her brother—she has no intention of marrying the future Duke of Drakestone. Bray, however, sees her rejection as another challenge. He bets that the fiery Miss Prim will not only agree to marry him,

she will propose to

him! With four sisters behind her, Louisa knows she can't lose. But why does her opponent have to be a divinely handsome scoundrel? And so sweetly, irresistibly seductive…
"His Grace looks to be the type of gentleman who would appreciate a very delicate cup and saucer," she continued. "One with plenty of colorful flowers painted on it."
Bray was impressed at how, when Miss Prim issued the orders, the girls went scurrying to their duties without question or complaint.
He had a thought that he might have won a battle, but he wasn't sure he could win the war.
This historical romance was a great start to what I am sure will be a series worth following. One of my New Year's resolutions this year was to read more historical romance because it was one of the genres in which I was severely lacking last year. I was very intrigued with this story because I love to read about sisters. Our heroine, Louisa Prim, has been handed sole guardianship of her four younger sisters and part of that commitment means that she must make a suitable marriage match so that her sisters have a chance of someday doing the same. Unfortunately for Louisa, the man who has his sights set on her is someone that she cannot stand, Bray the Duke of Drakestone. The chase all over London is on!
The chaos of the household that is the Prim women was one of the most thrilling things about this book, especially watching Bray interact with them and meet them all for the first time. I was so pleased with Louisa's character because she is so feisty and fiercely passionate and it only has me thinking how much I cannot wait to meet her other sisters. Louisa has the well-being of her sisters constantly on her mind, and this fact only drew me to her character that much more. She was a great sister and I loved watching her interact with her younger sisters just as much I like watching her and Bray go round and round about matters of love or lack of! If you love romance stories where the hero and heroine are not an immediate match, then this will be a perfect series starter for you!
***A free copy of this book was provided to me by the publishers at St. Martin's Paperbacks in exchange for my honest review***