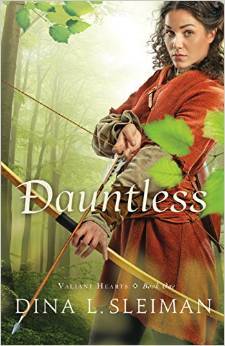 Author: Dina L. Sleiman
Publication Date: March 3, 2015
Publisher: Bethany House Publishers
Series: Valiant Hearts # 1
Though once a baron's daughter, Lady Merry Ellison is willing to go to any lengths to protect the orphaned children of her former village. Dubbed "The Ghosts of Farthingale Forest," her band of followers soon become enemies of the throne when they hijack ill-gotten gold meant for the king.
Timothy Grey, ninth child of the Baron of Greyham, longs to perform some feat so legendary that he will rise from obscurity and earn a title of his own. When the Ghosts of Farthingale Forest are spotted in Wyndeshire, where he serves as assistant to the local earl, he might have found his chance. But when he comes face-to-face with the leader of the thieves, will he choose fame or love?
Lady Merry Ellison had no need of a man. Now or ever. She had not been able to rely upon her father, nor her brother. No, she could rely upon no one but herself.
Merry would hold to one principle only: Do whatever it takes to protect these children.
And he dared not think what it might mean for his heart if Merry had been taken from them for good.
This sparkling new novel is aimed at juveniles or young adults, but to all my fabulous readers I just want to say that I know that adults will love Merry's story as well. Merry Ellison is a fearless, courageous, and highly intelligent heroine and role model. Her journey is sure to please readers of all ages and keep them anxiously awaiting other great characters just like her. Merry has been dealt a tough lot, and now she and her followers must rely on their wits to guide them as they are on the run in a world that seems like it is about to come crashing down around them. Merry reminds me so much of a valiant Robin Hood; her actions are powerful and the message she sends as a strong female lead makes this book undoubtedly one of the best I have read this year!
Sleiman sends a strong message with the types of characters she writes; from what I can gather, this entire series will focus around strong women and the men that love them. There is something to be said for an author that can write characters who are far from perfect, makes bad choices and mistakes, but yet when we finish reading the books we feel as if we have lost our best friends. The author's message is clear to young girls and boys alike; follow your heart, be brave, and allow God to lead and guide you. I cannot wait for what more the author has in store for this series and I am so humbled and honored that she allowed me to read and review this book. We all need a female Robin Hood to look up to; go out, pick up a copy of this book, and become enraptured in Merry Ellison's story, just like I did!
***A free copy of this book was provided to me by the publishers at Bethany House and by the author, Dina Sleiman, in exchange for my honest review***