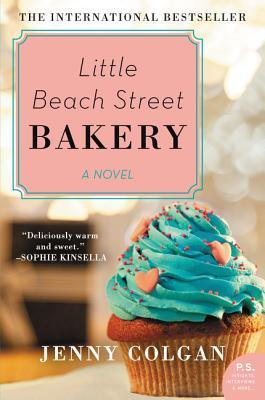 Author: Jenny Colgan
Publication Date: March 31, 2015
Publisher: William Morrow Paperbacks
Series: Little Beach Street Bakery # 1
In the bestselling tradition of Jojo Moyes and Jennifer Weiner, Jenny Colgan's moving, funny, and unforgettable novel tells the story of a heartbroken young woman who turns a new page in her life . . . by becoming a baker in the town of Cornwall
A quiet seaside resort. An abandoned shop. A small flat. This is what awaits Polly Waterford when she arrives at the Cornish coast, fleeing a ruined relationship.
To keep her mind off her troubles, Polly throws herself into her favorite hobby: making bread. But her relaxing weekend diversion quickly develops into a passion. As she pours her emotions into kneading and pounding the dough, each loaf becomes better than the last. Soon, Polly is working her magic with nuts and seeds, chocolate and sugar, and the local honey--courtesy of a handsome beekeeper. Packed with laughter and emotion, Little Beach Street Bakery is the story of how one woman discovered bright new life where she least expected--a heartwarming, mouthwatering modern-day Chocolat that has already become a massive international bestseller.
Polly winced at the word "bankruptcy." It sounded so final, so serious. Something that happened to silly pop stars and celebrities. Not to hard-working people like them.
She was on her way, completely alone to an utterly strange destination, against the advice of everyone she knew, leaving the only life she'd known for seven years. The enormity of it all weighed her down.
Polly was very specific about bread. She loved it. She had loved it in fashion and out of fashion; as a child, as an adult. It was her favorite part of going to a restaurant. She love it toasted or as it was; she loved bagels, and cheese on toast, and twisted Italian plaits. She loved artisan sourdough that cost six pounds for a tiny loaf, and she loved sliced white that molded and soaked up the juices of a bacon sandwich.
I cannot say enough good things about Jenny Colgan and her cozy, sweet books filled with cozy, sweet recipes and mouth watering dishes! I absolutely loved the setting and the main character, Polly. The small town setting and the atmosphere of the cozy little bakery was enough to allow me to kick back and forget the time and day for awhile. This is, of course, not my first Jenny Colgan, so I knew what to expect from the writing, dialogue, descriptive detail, character development, and charming dishes that always leave my stomach growling. The story focuses around Polly, as I mentioned previously, who has recently learned she is bankrupt, without a job, and dealing with her long-term boyfriend whose business just went under. Polly is left feeling along and desperate; she turns to a favorite past-time of hers: baking. Her baking soon becomes the talk of the small fishing town and she wins the approval of many of the fisherman, but also wins the disapproval of the local bakery shop owner. Polly must discover a way to win her heart over once and for all so that she too can pursue her dreams.
I loved the feeling of this little beachy town. Spring has definitely sprung where I live and reading this book allowed me to connect to the book more and just left me with a "feel good" mentality. The descriptions of teas, warm honeys and jams had me turning the pages faster than the time was ticking; this was one of those books that you hated to see end. Polly encounters a lot of interesting people who are enchanted by her marvelous baking and her interactions with them make for interesting twists to the story. I loved watching Polly bond with others over her baking and their love of the small seaside town. I would recommend not only this book, but any of Jenny Colgan's books to readers looking for a new author to follow and adore!
***A free copy of this book was provided to me by the publishers at William Morrow in exchange for my honest review***