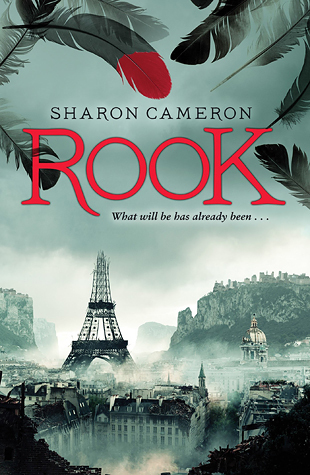 Author: Sharon Cameron
Publication Date: April 28, 2015
Publisher: Scholastic Press
History has a way of repeating itself. In the Sunken City that was once Paris, all who oppose the new revolution are being put to the blade. Except for those who disappear from their prison cells, a red-tipped rook feather left in their place. Is the mysterious Red Rook a savior of the innocent or a criminal?

Meanwhile, across the sea in the Commonwealth, Sophia Bellamy's arranged marriage to the wealthy René Hasard is the last chance to save her family from ruin. But when the search for the Red Rook comes straight to her doorstep, Sophia discovers that her fiancé is not all he seems. Which is only fair, because neither is she.

As the Red Rook grows bolder and the stakes grow higher, Sophia and René find themselves locked in a tantalizing game of cat and mouse.
The city was bloodthirsty tonight.
The spreading fog looked almost like the land that must have once been there, when the city was Paris and on one level, before the streets collapsed and sank into the tunnels and quarried caverns beneath it.
There were explosions somewhere down there, beneath the reek and fog, bright flashes of color and short, sharp pops – like the bedtime myths mothers told of guns.
I was sent a copy of this book for review at the beginning of April and I am so glad that it arrived when it did because I was in the mood for a YA book that was a little out of my normal choices; this book fit the mark! Can I just say how awesome the story was and how much I loved the setting, characters, drama, and romance?! There were so many unexpected twists and turns; this author kept me hooked the entire way through. This dystopian romance was full of some intriguing world building. I was unaware at first that this is a retelling of The Scarlet Pimpernel, which I have never read, but if you have read this then you will have a little bit of background knowledge about Rook before you pick it up!
Paris as a setting is always a win win for me. The dystopian world is so rich and the historical details that accompany it make for some enjoyable passages. Not only was the setting rich and vibrant but the dialogue was flooded with witty banter and amusing punchlines. Sophia's character was my favorite and I found myself favoring her POV over any of the other characters. She was a character with many virtues and this is what led me to admire and adore her so much. She was clever and able to figure out how to handle tough situations. I highly recommend this riveting dystopian read!
***A free copy of this book was provided to me by the publishers at Scholastic Press in exchange for my honest review***