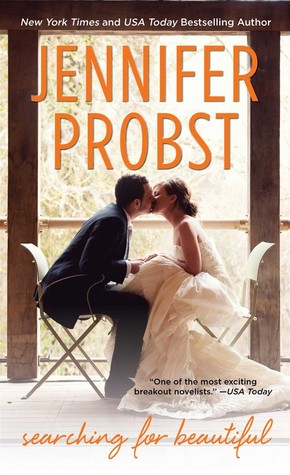 Author: Jennifer Probst
Publication Date: May 26, 2015
Series: Searching For # 3
The highly anticipated third novel in the Searching For series from Jennifer Probst, one of the most exciting breakout novelists (

USA TODAY

), featuring a runaway bride and the man who wants to be more than just her best friend.



Genevieve MacKenzie has her life completely under control. About to wed the charming Chief doctor at the local hospital, she's an up-and-coming surgeon with everything she could ever want. Until an escape through the church window on the day of her wedding sends her life into a tailspin, and flings her right into her best friend's arms.





When Wolfe catches his best friend falling out a window on her wedding day, he doesn't ask questions. He whisks her away, determined to watch over her and discover the truth behind her desperate escape. But when his feelings turn more than platonic, he realizes he may risk his most important relationship in order to protect his damaged heart, and the woman he loves.





Can Genevieve and Wolfe's friendship turn into something deeper or is it already too late for true love?
Wolfe hit the speaker system and Gun N' Roses blasted out, hard and loud and raw. He didn't speak. Just drove.
Wolfe would take care of things. She'd retreat, make some decisions, and clean up the mess she made. But not now.
What he offered was enough. No expectations, only acceptance, respect, and love.
I love a good friends and lovers story! The story starts with Genevieve Mackenzie who we quickly find out is a runaway bride! Gen seems to have the perfect life; she is engaged to her successful, handsome boss, David, and should be more than happy with her about to fairytale ending…but she is not all that happy as she soon realizes. Gen quickly finds comfort in the hands of her long time best friend, Wolfe. Their relationship has always been platonic, but are things suddenly changing for them? Gen and Wolfe are both carrying some excess baggage from their past relationships. Probst does a nice job of making this an exceedingly happy tale, while still adding in some of the angst, regret, and heavy emotion that they are both carrying around. As you read, you will feel pain and you will feel happy. You will feel everything the characters feel; that is just how endearing they are.
I loved that the relationship did not just happen overnight. These two really had to battle with their feelings and deal with plenty of mixed emotions before they were ready to commit to the idea of a deeper relationship with one another. This made the story seem much more real. Wolfe's character faces a more emotional and troubling past and it was hard to not want to strangle him at times, but I will say that if you like to read books where you can clearly see the characters grow and change, then this would be a great book for you. Gen and Wolfe learn to be together, but they also learn how to be better together. This book had such a gratifying finish!
***A free copy of this book was provided to me by the publishers at Gallery Books in exchange for my honest review***