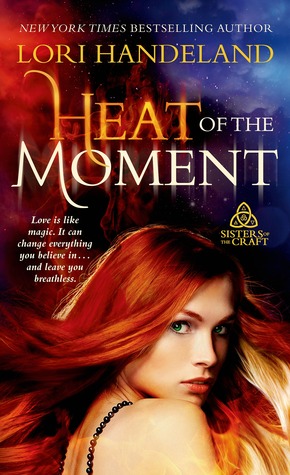 Author: Lori Handeland
Publication Date: June 30, 3015
Publisher: St. Martin's Paperbacks
Series: Sisters of the Craft # 2
A spell that tore three sisters apart is broken four hundred years later, when the magic in their blood reunites them. Now, one of them will discover her gift—and reignite a love long thought lost…
Flame-haired Becca Carstairs was born to be a veterinarian. Since childhood, her affinity for animals has been special, and her healing touch nothing short of magic. But only Becca knows the truth—that she alone can hear the creatures' voices. She's always trusted her sixth sense… until a string of missing pets, an attempted murder, and a face from her past converge into one explosive mystery, with her at its center.
Is haunted Owen McAllister, the boy who broke her heart ten years ago, related to the sinister crimes that have peaceful Three Harbors, Wisconsin, on its guard? Or is his reappearance part of the answer to questions that have troubled her all her life? As Becca delves into her strange heritage, she'll have to fight for her life… and the man she will always love.
In the second book of this spellbinding new series,
New York Times
bestselling author Lori Handeland delivers breath-taking danger, desire, and the dark heart of magic.
If there was one thing I'd learned in this job it was that people are a lot stranger than animals.
I'd been seeing this wolf since I was a child, which would make her one old wolf. Wolves lived eight to ten years in the wild. At that rate, I should be on wolf number three. One of the many reasons I'd never told anyone about her.
Of all the people in world to find me cowering in the bushes, sweaty, tired, and wearing workout clothes, why did it have to be him?
Becca's story picks up right where her sister Raye's ended. However, now we are in a different town and we learn about a different sister than before. Becca is the town vet and has a special magic with animals. Her story was so enjoyable for me because of that. We find out early on that Becca is still heartbroken over her first love, Owen, so when their paths cross again they both must learn to get past any differences they had before. Becca, just like Raye, does not know that she is a witch, so that makes for some rather interesting and funny scenes. The magic was very addicting and always suspenseful. I can't stand when authors write a book where you expect to see plenty of magic and then you never get any, but that is not the case with this series.
Even though I did enjoy Raye's story better, I still loved learning about another of the triplets and I am very anxious to read Willow's story as well. The romance in this book was just as good as the first, if not better because I always love a second chance love story. Becca and Owen had many emotions and feelings to try and weave through and it took a lot of work to break down walls that had been built because of distrust and hurt. Overall, the suspense, romance, and magic make this book very enjoyable and will make readers anxious for more!
***A free copy of this book was provided to me by the publishers at St. Martin's in exchange for my honest review***