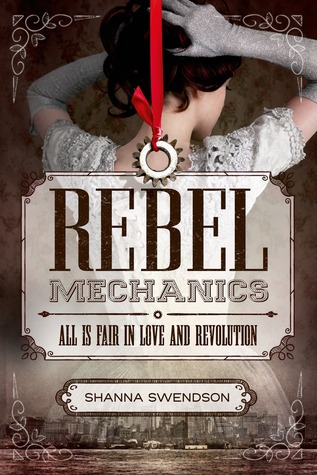 Author: Shanna Swendson
Publication Date: July 14, 2015
Publisher: Farrar, Straus, and Giroux (BYR)
Series: Rebel Mechanics # 1
A sixteen-year-old governess becomes a spy in this alternative U.S. history where the British control with magic and the colonists rebel by inventing.
It's 1888, and sixteen-year-old Verity Newton lands a job in New York as a governess to a wealthy leading family—but she quickly learns that the family has big secrets. Magisters have always ruled the colonies, but now an underground society of mechanics and engineers are developing non-magical sources of power via steam engines that they hope will help them gain freedom from British rule. The family Verity works for is magister—but it seems like the children's young guardian uncle is sympathetic to the rebel cause. As Verity falls for a charming rebel inventor and agrees to become a spy, she also becomes more and more enmeshed in the magister family's life. She soon realizes she's uniquely positioned to advance the cause—but to do so, she'll have to reveal her own dangerous secret.
"Welcome aboard, Verity. And be prepared to make history."
Even as a governess, I'd fell like a princess whenever I came down that staircase.
His ice-blue eyes flecked with gray and rimmed in dark blue were the same as those of the bandit from the train.
I told myself that I had nothing to fear as long as I exhibited no sign of having magical powers. I'd spent a lifetime keeping that secret, so it was second nature for me.
A historical fiction steampunk was just what I needed this week! I was so impressed with Shanna Swendson's new YA series and I was so easily reminded of why I adore steampunk books. The world in which Rebel Mechanics was set was fun and invigorating, even though I could have used a bit more back story, but that's just me. We get the pleasure of following Verity Newton as she is hired on by one of the richest families as their governess. Verity lives in a world separated by classes: the magisters and the non-magical folk. Verity soon gets mixed up in this world and loses her place. She turns into a rebel spy without even really realizing that she was doing so. This book goes by so fast and only took me a few hours to finish. I loved the difference in classes and how the rebel mechanics were trying to make a way for themselves in the world that was ruled by magic.
This book has a little bit of everything from romance, mystery, awesome characters, and of course, steampunk elements! I must say that my two favorite characters were Verity and Lord Henry, her employer. Lord Henry is quirky and fun and not like I expected he would be. I fell easily into the world of steampunk and I quickly became a sympathizer with the rebel mechanics and what they stood for. They had a worthy cause and it was easy to follow them, especially because Verity did. Verity was young and still naïve in many ways, but this story was an excellent start for her character; I cannot wait to see how she changes in the next books in the series.
***A free copy of this book was provided to me by the publishers at FSG Books for Young Readers in exchange for my honest review***