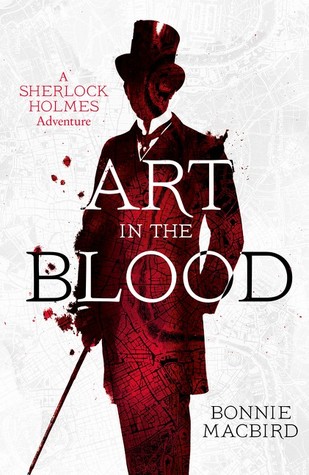 Author: Bonnie MacBird
Publication Date: October 6, 2015
Publisher: Collins Crime Club
London. A snowy December, 1888. Sherlock Holmes, 34, is languishing and back on cocaine after a disastrous Ripper investigation. Watson can neither comfort nor rouse his friend – until a strangely encoded letter arrives from Paris.

Mlle La Victoire, a beautiful French cabaret star writes that her young son has vanished, and she has been attacked in the streets of Montmartre.

Racing to Paris with Watson at his side, Holmes discovers the missing child is only the tip of the iceberg of a much larger problem. The most valuable statue since the Winged Victory has been violently stolen in Marseilles, and several children from a silk mill in Lancashire have been found murdered. The clues in all three cases point to a single, untouchable man, an art collector seemingly beyond reach of the law.

Will Holmes recover in time to find the missing boy and stop a rising tide of murders? To do so he must stay one step ahead of a dangerous French rival and the threatening interference of his own brother, Mycroft.

This latest adventure, in the style of Sir Arthur Conan Doyle, sends the iconic duo from London to Paris and the icy wilds of Lancashire in a case which tests Watson's friendship and the fragility and gifts of Sherlock Holmes' own artistic nature to the limits.
My dear friend Sherlock Holmes once said, "Art in the blood is liable to take the strangest forms."
In my numerous accounts of the adventures we shared, I have mentioned his violin playing, his acting – but his artistry went much deeper than that. I believe it was at the very root of his remarkable success as the world's first consulting detective.
One late afternoon found me reading contentedly by the fire when a note arrived by breathless messenger. Opening it, I read: "Dr. Watson – he has set 221B on fire! Come at once! – Mrs. Hudson."
Adventure awaits us all on a cold, dreary day inside apartment 221B on Baker Street. Sherlock Holmes has long been a large icon in literature throughout time and rightly so, of course. Bonnie MacBird has done something totally marvelous here. She has given us a retelling, an adaptation, an extension of the Sherlock Holmes that we all know and love. MacBird does not venture too far from what Sherlockians expect. Her writing is very near and true to that of Conan Doyle himself. This is what I most love about this story; our heroes are kept in character. They are the same characters that we have fallen in love with so many times before. The relationship between Holmes and Watson is so endearing and comfortable for readers. Much of the dialogue they share will remind you of so many actors that have portrayed this well-loved duo in the past.
The story was of course narrated by none other than John Watson himself, holding true to Doyle's style. The mystery was fast-paced and held true to its place in time. There are several bits of humor, sarcasm, and action. MacBird succeeds at holding the attention of the reader by never allowing the predictable to play out. Her book has been, by far, the best Sherlock Holmes novel I have ever read, other than Doyle himself. The mystery is of course deeper than what it appears to be at first. As you read, you will find more and more clues and be shocked at how things play out. And with Sherlock as your guide, you are sure to have the most thrilling adventure of your life! I am unsure if this will be a series, but I really do hope so!
***A free copy of this book was provided to me by the publishers at Collins Crime Club in exchange for my honest review***