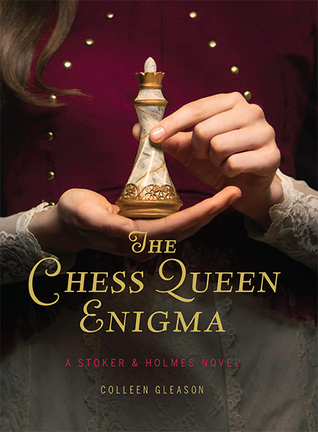 Author: Colleen Gleason
Publication Date: October 6, 2015
Publisher: Chronicle Books
Series: Stoker & Holmes # 3
And then she mouthed a word at me—an unmistakable word that told me everything I needed to know. "Checkmate."
Evaline Stoker & Mina Holmes have reluctantly agreed to act as social chaperones and undercover bodyguards for Princess Lurelia of Betrovia, who has arrived in London to deliver a letter that details the secret location of an ancient chess queen that's been missing for centuries. But when the letter—which will heal a centuries-old rift between England and the Betrovians—is stolen out from under Evaline and Mina's watchful eyes, the two girls are forced into a high-stakes race to ensure they find the chess queen before anyone else does…including their foe, the Ankh. For the chess queen is not only a historic symbol of a woman's political power, but it has literal power as well—the queen will unlock the chessboard, revealing both treasures and ancient secrets the Ankh would kill to possess. It will take Mina's smarts and Evaline's strength to beat the thief and untangle this mystery before it is too late.
So I did what any intelligent person would do: I took the opportunity to flee.
Second, under no circumstances could I be seen by Uncle Sherlock. A master of disguise himself, he would immediately recognize me.
My eyes bolted wide as he plunged his fangs into my throat.
If you have not picked up this series, please do yourself a favor and do so immediately. I fall in love with our two very different, but very courageous, crime-solving sleuths a little more with each new book. First we have Evaline Stoker, the vampire slaying sister of Bram, who is spiteful, impulsive, quick on her feet, and a little attitudinal to the say the least. Then we have Mina Holmes, the niece of the famous Sherlock, who is too smart for her own good, a little clumsy, and possibly too bossy for her own good. Together these girls make as good a pair as Dr. Watson and Sherlock themselves. There is never a dull moment with either one and you can just about guess that what one wants to do, the other will want to do the exact opposite. Their relationship is still a little rocky and they of course are very different from one another, but isn't that what makes a great pair?
Mina and Evaline cannot agree on much, but one thing they can agree on is the fact that they both are intent on unmasking the Ankh, a powerful villainess they have been chasing since book one. Watching these two girls join together and put their differences behind them is very invigorating; I mean you have two great minds on one team, a Stoker and a Holmes. It just doesn't get any better than this. I love the world that Mina and Evaline abide in; a very Victorian, steam punk, steam-powered London that would give any reader enjoyment. I am hoping that there will be another book added to this series. While I wouldn't say that we ended with a cliffhanger, we definitely did not have all questions answered. I am dying for more from my two favorite sleuths!
***A free copy of this book was provided to me by the publishers at Chronicle Books in exchange for my honest review***