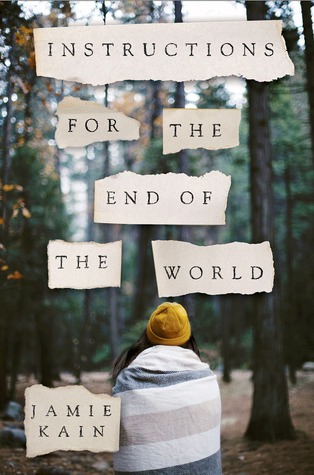 Author: Jamie Kain
Publication Date: December 8, 2015
Publisher: St. Martin's Griffin
From the author of The Good Sister comes a gripping novel about two sisters who learn that there are things in life—love, loss, and self-discovery—that you simply can't prepare for.
He prepared their family for every natural disaster known to man—except for the one that struck.
When Nicole Reed's father forces her family to move to a remote area of the Sierra Foothills, one without any modern conveniences, it's too much too handle for her mother, who abandons them in the middle of the night. Heading out to track her down, Nicole's father leaves her in charge of taking care of the house and her younger sister, Izzy. For a while, Nicole is doing just fine running things on her own. But then the food begins to run out, the pipes crack, and forest fires start slowly inching their way closer every day. Wolf, a handsome boy from the neighboring community, offers to help her when she needs it most, but when she starts to develop feelings for him, feelings she knows she will never be allowed to act on once her father returns, she must make a decision. With her family falling apart, will she choose to continue preparing for tomorrow's disasters, or will she take a chance and really start living for today?
Instructions for the End of the World is a gripping, young adult novel that explores family, friendship, and love in the midst of the most difficult and dangerous circumstances.
By the time you return, maybe the end will have come.
While you were busy preparing for catastrophe, maybe the worst really did happen, and it wasn't what you thought it would be at all.
Today is the day my life stopped being my life.
This book has been taking a lot of bad reviews on various social media platforms, but I am here to hopefully help redeem the book for it does some wonderful qualities about it. This story is not your average, every day, run of the mill story. It is different and takes a look at an event that could be possible, but is not your typical young adult story. Nicole Reed's father is convinced that the end of the world is near, so in preparation he moves Nicole, her mother, and her younger sister to a house in a remote area of the Sierra Foothills. When Nicole's mother decides this is all too much to bear, she deserts the family leaving her husband with no choice but to come and look for her. Nicole is left behind and left in charge of the house and her little sister, Izzy. Like I said, this is not your average story but I loved the idea behind it and really enjoyed following Nicole on what I imagine to be a pretty scary journey.
This novel focuses on more than just the idea that the world could end, but it also covers major themes like family, relationships, friendships, and trust. I loved the alternating viewpoints of Nicole and Izzy; even though they are sisters, they could not be more different. Everything about this book seemed so realistic and there are people who would take measures such as this, maybe I would as well if I felt as strongly as Nicole's father. I felt safe and assured in Nicole's company as she took on the responsibility that was left in her hands by her father. She was an ever-changing and ever-growing character. This type of book is not something I will always pick up, and is something that I have to be in the mood for, but it was a nice change of pace for me compared to what I normally read.
***A free copy of this book was provided to me by the publishers at St. Martin's Griffin in exchange for my honest review***