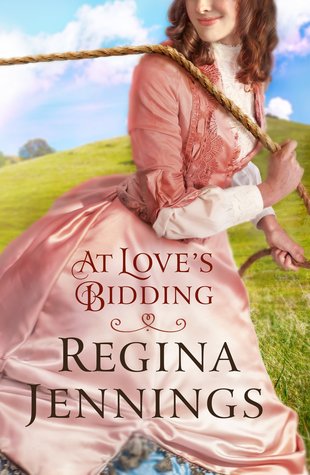 Author: Regina Jennings
Publication Date: December 1, 2015
Publisher: Bethany House
Series: Ozark Mountain Romance # 2
After helping her grandfather at their Boston auction house, Miranda Wimplegate discovers she's accidentally sold a powerful family's prized portrait to an anonymous bidder. Desperate to appease the furious family, her grandfather tracks it to the Missouri Ozarks and makes an outlandish offer to buy the local auction house if they promise not to sell anything until he arrives.

Upon their arrival, however, they discover their new business doesn't deal in fine antiques, but in livestock. And its manager, ruggedly handsome Wyatt Ballentine, is frustrated to discover his fussy new bosses don't know a thing about the business he's single-handedly kept afloat. Faced with more cattle than they can count--but no mysterious painting--Miranda and Wyatt form an unlikely but charged partnership to try and salvage a bad situation getting worse.
With her last view of the salon, she spotted the mysterious man from the carriage tucking his number into his waistcoat pocket and departing with a satisfied smile.
She'd walk through anything rather than spend another moment in his company. With all the dignity she could muster, she heaved open the wide, wooden door.
Why wasn't he happy that she decided not to leave after all?
I have never read a Regina Jennings story that I have not thoroughly enjoyed. She is able to pen everlasting stories with inspirational and emotional themes and writes some of the smartest, most wonderful characters I have read. This is the second book in the series, but I feel it could be read as a standalone novel. The story follows Miranda and Wyatt as they work in their spiritual journey to help others around them that are less fortunate. They share a lot in common, but still come from two completely different backgrounds. Wyatt is fine with his comfortable life until Miranda comes in and throws him for a loop – and I mean that in the best sense possible!
The message was very inspirational and talked about God in a manner that was not intrusive but enlightening and motivational for those reading. I was fully invested in both of these characters and I cared about the same things they cared about. They were smart, strong, and completely determined to better themselves and their goals. The book has a very real and serious message behind it, but Regina Jennings writes s

cenes that are witty and full of humor. She makes the character's lives and problems seem very real, but she still allow them to joke and have a good time while enjoying each other's company. I am looking forward to so much more from this series!
***A free copy of this book was provided to me by the wonderful people at Litfuse in exchange for my honest review***