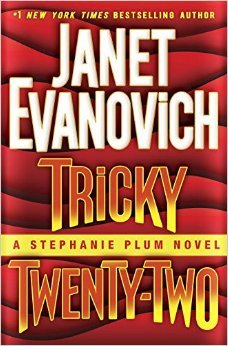 Author: Janet Evanovich
Publication Date: November 17, 2015
Series: Stephanie Plum #22
Something big is brewing in Trenton, N.J., and it could blow at any minute.
Stephanie Plum might not be the world's greatest bounty hunter, but she knows when she's being played. Ken Globovic (aka Gobbles), hailed as the Supreme Exalted Zookeeper of the animal house known as Zeta fraternity, has been arrested for beating up the dean of students at Kiltman College. Gobbles has missed his court date and gone into hiding. People have seen him on campus, but no one will talk. Things just aren't adding up, and Stephanie can't shake the feeling that something funny is going on at the college - and it's not just Zeta fraternity pranks.
As much as people love Gobbles, they hate Doug Linken. When Linken is gunned down in his backyard it's good riddance, and the list of possible murder suspects is long. The only people who care about finding Linken's killer are Trenton cop Joe Morelli, who has been assigned the case, security expert Ranger, who was hired to protect Linken, and Stephanie, who has her eye on a cash prize and hopefully has some tricks up her sleeve.
I bought a load of comfort food and went home to eat it. Snickers bars, Reese's Peanut Butter Cups, York Peppermint Patties, M&M's, Twizzlers, everything I could find that contained caramel, plus three tubs of ice cream.
"Well, I'm just sayin'. I keep my skin silky soft with lanolin, and I don't want no welts. What's the world coming to when a girls allows for welts on her booty?"
He plays by his own rules, and I don't have a complete copy of his rule book.
A lot of people, from the reviews I have read so far, seem to be fed up with this long running series and want Evanovich to put an end to Stephanie's reign as the Queen of Mystery. I, on the other hand, fly through each book like it is the very first to be released. Yes, they have become a bit predictable. Yes, I would like to see a change in Stephanie's love life and an end to the Ranger-Morelli-Plum love triangle. No, I am not ready to see the series end. Stephanie Plum is one of my favorite characters of all time and I can finish any of these books in one sitting. The mystery, although predictable at times, still kept me hooked and gave me that fabulous gut feeling of dying to know what is going to happen next.
All the same loveable characters have returned: Ranger, Lula, Morelli, and of course Stephanie Plum herself. I do not want to release any spoilers, but by the end of the book I feel that we have moved forward a little in the love department. Now who knows how long it will last or where Evanovich will take it from here. I love how all of Evanovich's books draw in multiple new characters and allow the reader to question all of them when it comes to who committed the crime. Stephanie has a tendency to be working on several cases at a time and most of them manage to be connected somehow. I love the journeys she goes on with Lula and all the crazy, funny conversations they have.
***A free copy of this book was provided to me by the publishers at Bantam in exchange for my honest review***