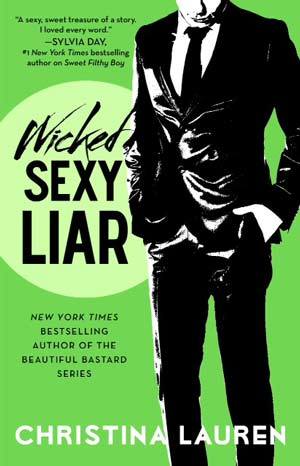 Author: Christina Lauren
Publication Date: February 2, 2016
Publisher: Gallery
Series: Wild Seasons #4
When three college besties meet three hot guys in Vegas, anything can—and does—happen. Book Four in the New York Times Wild Seasons series that began with Sweet Filthy Boy (the Romantic Times book of the year that Sylvia Day called "a sexy, sweet treasure of a story"), Dirty Rowdy Thing, and Dark Wild Night.

For two people ambivalent about dating and love, they sure get naked around each other an awful lot . . .

London Hughes is very content to surf daily, tend bar, hang out with her group of friends, and slowly orient herself in the years after college. Everything's going great and according to the non-plan.

But when a wave knocks her for a loop one morning, then Luke Sutter's flirtatious smile knocks her for another that evening, she veers slightly off course…and into his path. Sure, he's a total player, but the Why not—it's only one night is a persistent voice in her ear.

For his part, Luke's been on hookup autopilot for so long that he rarely ever pauses to consider what he's doing. But after an amazing time with London, he realizes that he hasn't been moving on from a devastating heartbreak so much as he's been drifting to wherever—and whomever—the current takes him. With London he wants more.

Every relationship involves two people…plus their pasts. And as much as she enjoys her fling with Luke, when London learns about his past—more specifically, who's in it—everything becomes the brand of complicated she strives to avoid. It's up to Luke then to change some things in order to try and ensure he's not something she'll outright avoid as well.
"Being with him feels a little like letting go of the handlebars and racing down a hill. And it also feels like being wrapped up in the warmest blanket. How can he feel both like an adventure and a comfort?"
"Being near him is a little like slipping into a warm bath."
"There's so many ways to love this girl; good God, let me find every one."
"A predictable life never changed anyone."
Christina Lauren has done it again. And not only is she a great writer, but she is personable too (I get a Christmas card every year in the mail). She is talented and really gives her readers something to hold onto. Just when I ask myself where the series could go from here, she releases a new book and rocks my world! I personally think any of these books could be read as standalone novels, but I have loved following this series and would recommend it to any and all who love a good, steamy romance. This fun, fabulous new fourth book in the series follows London and Luke, both loveable characters that you will fall head over heels in love with. I must say that Luke beat out London as my favorite character of the book, however. Luke is sweet and caring and I always found myself waiting for more from his point of view.
Their story sent me for a loop; I mean the sexual tension between these two was completely unreal. London has been burned and is not interested in any kind of romantic relationship. Luke is known to be a bit of a player and is definitely a charmer, but neither one is ready for the type of head over heels feeling they get from the other. I loved that London was so genuine. Some may see her as boring because she preferred to be alone, but I felt very connected to her because she chose to keep it real with anyone who wanted to enter her life. I loved following Luke's thought processes; his thoughts are not filtered at all. He says exactly what he feels and most of the time it will make your eyes pop out of your head! This was the perfect read for my Valentine's Day weekend!
***A free copy of this book was provided to me by the publisher in exchange for my honest review***