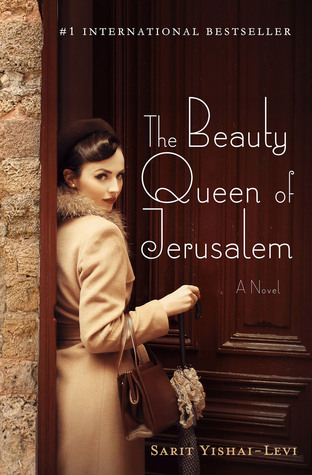 Author: Sarit Yishai-Levi
Publication Date: April 5, 2016
The Beauty Queen of Jerusalem
is a dazzling novel of mothers and daughters, stories told and untold, and the binds that tie four generations of women.
Gabriela's mother Luna is the most beautiful woman in all of Jerusalem, though her famed beauty and charm seem to be reserved for everyone but her daughter. Ever since Gabriela can remember, she and Luna have struggled to connect. But when tragedy strikes, Gabriela senses there's more to her mother than painted nails and lips.
Desperate to understand their relationship, Gabriela pieces together the stories of her family's previous generations—from Great-Grandmother Mercada the renowned healer, to Grandma Rosa who cleaned houses for the English, to Luna who had the nicest legs in Jerusalem. But as she uncovers shocking secrets, forbidden romances, and the family curse that links the women together, Gabriela must face a past and present far more complex than she ever imagined.
Set against the Golden Age of Hollywood, the dark days of World War II, and the swingin' '70s,

The Beauty Queen of Jerusalem follows generations of unforgettable women as they forge their own paths through times of dramatic change. With great humor and heart, Sarit Yishai-Levi has given us a powerful story of love and forgiveness—and the unexpected and enchanting places we find each.
Many years after her death, when I found room in my heart for my mother, my Aunt Rachelika told me the secret of her suffering, the never-receding pain. But by then it was already too late to fix what had been broken between us.
I'm a woman of autumn, of yellowed falling leaves. I was born at its back door, two steps before winter.
But she was prepared to suffer a thousand deaths for a few minutes in Gabriel's arms.
That's how it is with old age. There are things you miss.
This beautiful and intricate tale brings four generations of women together: a family saga, to be exact. Each of these women are strong and complex characters. Not only are we given bright, wonderful female leads, but we are also given a historical fiction novel that transports us through time back to a time when Jerusalem was in the midst of political upheaval. If I had to choose, I could not choose which was my favorite the rich history lesson I received or the family dynamics. I was able to picture fully a place I had never been before; the cities, the food, and even the people meandering around the streets. The story was a thrilling journey and I had only the best guides to accompany me along the way.
The biggest complaint that I had while reading is that the book started somewhat slow, but it did pick up after the first few chapters. The more that is revealed about the family the more I found myself holding on and being less and less able to put the book down. I forgot to mention before that these women believe that their family namesake suffers from a curse. This curse is the bait and when family secrets start to unravel, any reader will be hooked. I am all for powerful relationships among women; they are sisters, mothers, and daughters and anyone will fall in love with their stories, hardships, and triumphs.
***A free copy of this book was provided to me by the publishers at Thomas Dunne in exchange for my honest review***