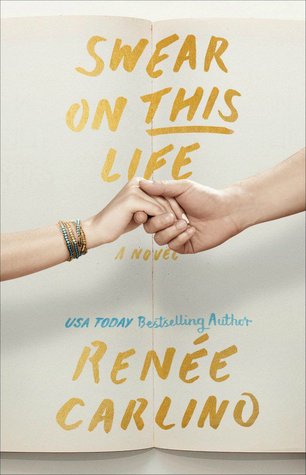 Author: Renee Carlino
Publication Date: August 9, 2016
Publisher: Atria Books
When a bestselling debut novel from mysterious author J.Colby becomes the literary event of the year, Emiline reads it reluctantly. As an adjunct writing instructor at UC San Diego with her own stalled literary career and a bumpy long-term relationship, Emiline isn't thrilled to celebrate the accomplishments of a young and gifted writer.

Yet from the very first page, Emiline is entranced by the story of Emerson and Jackson, two childhood best friends who fall in love and dream of a better life beyond the long dirt road that winds through their impoverished town in rural Ohio.

That's because the novel is patterned on Emiline's own dark and desperate childhood, which means that "J. Colby" must be Jase: the best friend and first love she hasn't seen in over a decade. Far from being flattered that he wrote the novel from her perspective, Emiline is furious that he co-opted her painful past and took some dramatic creative liberties with the ending.

The only way she can put her mind at ease is to find and confront "J. Colby," but is she prepared to learn the truth behind the fiction?
"
H
is name is Jase Colbertson. He and I used to finish each other's sentences."
I was breathing hard as I lay the book down on my chest, right over my throbbing heart. I remembered that moment when everything started crumbling down around us. There was nothing we could do; we were just a couple of powerless, poor kids, so desperate to find a way to be together…
"We can't always control our circumstances, who our parents are, where we live, or how much money we make, but in those rare moments when we can shape our fate, when we do have the power to make our own happiness, we can't be scared to do it."
"There once was a boy and a girl..."
Renee Carlino has done it again! This book managed to pull me in within the first few pages and I had a hard time stopping until I was finished. Her stories and her characters come to life instantly and the time it takes you to finish one of her books is short, but you will be wishing it lasted longer. The premise behind this story is new, original, and enough to make anyone cry their heart out. Basically, our heroine is introduced, by her best friend, to a new book that everyone is talking about. It is on the bestseller list and gaining awards from every direction. As Emiline sits down to read this book, she realizes that this is her story and that J. Colby, the author, is Jase, her first love. WOW! Can you imagine how I felt as the reader when I reached this point in the story? It was invigorating!
What I love best about the book is that we get to see glimpses into the past as Emiline and Jase were younger and things were different for the both of them. I also loved the fact that Emiline was in a present relationship and that complicated things a bit for her. I like to watch characters grow and have to figure things out, even when they are very messy. This was a story within a story and those of some of the best books to read. I feel very comfortable saying that this was the best second chance romance book I have ever read and I wish I could do it all over again. You will feel every single emotion as you read this book and trust me, you won't want it to end!
***A free copy of this book was provided to me by the publishers at Atria Books in exchange for my honest review***