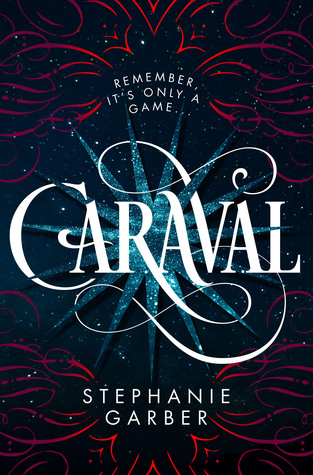 Author: Stephanie Garber
Publication Date: January 31, 2017
Publisher: Flatiron Books
Whatever you've heard about Caraval, it doesn't compare to the reality. It's more than just a game or a performance. It's the closest you'll ever find to magic in this world . . .


Welcome, welcome to Caraval―Stephanie Garber's sweeping tale of two sisters who escape their ruthless father when they enter the dangerous intrigue of a legendary game.
Scarlett has never left the tiny island where she and her beloved sister, Tella, live with their powerful, and cruel, father. Now Scarlett's father has arranged a marriage for her, and Scarlett thinks her dreams of seeing Caraval, the far-away, once-a-year performance where the audience participates in the show, are over.
But this year, Scarlett's long-dreamt of invitation finally arrives. With the help of a mysterious sailor, Tella whisks Scarlett away to the show. Only, as soon as they arrive, Tella is kidnapped by Caraval's mastermind organizer, Legend. It turns out that this season's Caraval revolves around Tella, and whoever finds her first is the winner.
Scarlett has been told that everything that happens during Caraval is only an elaborate performance. But she nevertheless becomes enmeshed in a game of love, heartbreak, and magic with the other players in the game. And whether Caraval is real or not, she must find Tella before the five nights of the game are over, a dangerous domino effect of consequences is set off, and her sister disappears forever.
"Whatever you've heard about Caraval, it doesn't compare to the reality. It's more than just a game or performance. It's the closest you'll ever find yourself magic in this world."
"No one is truly honest," Nigel answered. "Even if we don't lie to others, we often lie to ourselves. And the word good means different things to different people."
"Welcome, welcome to Caraval! The grandest show on land or by sea. Inside you'll experience more wonders than most people see in a lifetime. You can sip magic from a cup and buy dreams in a bottle. But before you fully enter into our world, you must remember it's all a game."
"Hope is a powerful thing. Some say it's a different breed of magic altogether. Elusive, difficult to hold on to. But not much is needed."
"He tasted like midnight and wind, and shades of rich brown and light blue. Colors that made her feel safe and guarded."
The month of February left me in one of the biggest reading slumps I have seen in a while. I knew that I was going to have to find a really great book to bring me out of it. This book was all that I needed to bring me out of this slump. I was completely swept away in this world, in the game, and by the loveable and some not so loveable characters. The circus-like/magical world that is Caraval left me reminiscing back to my first days reading Harry Potter when I was fascinated by a world so different from my own. One of the best parts of the book were the letters that we exchanged between our main characters; it brought such a magical, nostalgic feeling to the journey. I was so impressed with this story. I actually hugged the book after I finished reading it because the story was so endearing and will forever be one of my favorites.
The best part of this story was that when you are about one-third to a half of the way in you have so many questions that you will be dying to know the answers to. You will start to try and figure things out, but you will probably, like me, get to the end and have very different things happening that what you first expected. There are so many fascinating characters that you will meet along the way; Scarlett was my favorite and I must say that I only admired her more by the end of the story. She felt like a very real person with flaws and dreams and expectations. I loved everything about this book and was so shocked by the very last pages. I am beyond thrilled to see where the story goes from here!