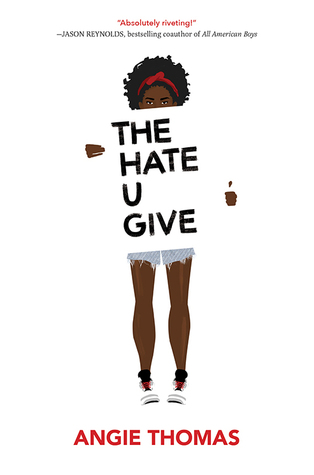 Author: Angie Thomas
Publication Date: February 28, 2017
Sixteen-year-old Starr Carter moves between two worlds: the poor neighborhood where she lives and the fancy suburban prep school she attends. The uneasy balance between these worlds is shattered when Starr witnesses the fatal shooting of her childhood best friend Khalil at the hands of a police officer. Khalil was unarmed.
Soon afterward, his death is a national headline. Some are calling him a thug, maybe even a drug dealer and a gangbanger. Protesters are taking to the streets in Khalil's name. Some cops and the local drug lord try to intimidate Starr and her family. What everyone wants to know is: what really went down that night? And the only person alive who can answer that is Starr.
But what Starr does or does not say could upend her community. It could also endanger her life.
"What's the point of having a voice if you're gonna be silent in those moments you shouldn't be?"
"Sometimes you can do everything right and things will still go wrong. The key is to never stop doing right."
"I can't change where I come from or what I've been through, so why should I be ashamed of what makes me, me?"
"People like us in situations like this become hashtags, but they rarely get justice. I think we all wait for that one time though, that one time when it ends right. Maybe."
"Black Jesus hangs from the cross in a painting on the hallway wall, and Malcolm X holds a shotgun in a photograph next to him."
I teach 12th students in an urban district that was heavily affected by the #blacklivesmatter movement over the past year. I felt it was pretty pertinent that I read this book. This book follows Starr Carter, a high school junior who witnesses one of her best friends being shot and killed by a police officer. The entire book is her struggle in dealing with the aftermath of this. The book is extremely easy to read and the 444 pages fly by very quickly. Angie Thomas writes perfectly from the perspective of a teenage girl struggling with so many issues. Starr lives in the ghetto but attends a prestigious private school, so she is constantly balancing two sides of herself. The friend that was killed is being talked about all over town and people are saying he was selling drugs and had joined a gang, and Starr struggles more than anything with the fact that they had drifted apart so much and she feels she could have done more to help him. This book was real and raw – and that's the best way I can think to describe it.
The book goes through many aspects of Starr's life. I am so glad that I read this book, and I am now recommending this book to my students. Starr dealt with a lot of angst in dealing with how or even if she should speak out about what she witnessed. I have a lot of students who wanted to participate in the Black Lives Matter movement, but didn't always know how to go about it. The book also deals with things like rioting and how that can affect a community. This book was at times heartbreaking, but I understand the importance of reading and sharing something like this. There are so many characters to love and even some that you will most certainly dislike (King – the gang leader). Starr was such a wonderful character who was meek and stayed in the shadows at the beginning, but emerged as a strong, brave girl who learns the value of speaking out and speaking up for what matters to you most!