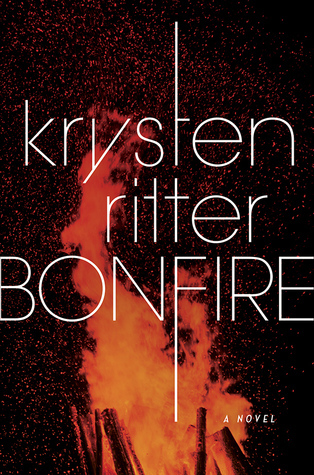 Author: Krysten Ritter
Publisher: Crown Archetype
Publication Date: November 7, 2017
Should you ever go back?


It has been ten years since Abby Williams left home and scrubbed away all visible evidence of her small town roots. Now working as an environmental lawyer in Chicago, she has a thriving career, a modern apartment, and her pick of meaningless one-night stands.

But when a new case takes her back home to Barrens, Indiana, the life Abby painstakingly created begins to crack. Tasked with investigating Optimal Plastics, the town's most high-profile company and economic heart, Abby begins to find strange connections to Barrens' biggest scandal from more than a decade ago involving the popular Kaycee Mitchell and her closest friends—just before Kaycee disappeared for good.

Abby knows the key to solving any case lies in the weak spots, the unanswered questions. But as Abby tries to find out what really happened to Kaycee, she unearths an even more disturbing secret—a ritual called "The Game," which will threaten the reputations, and lives, of the community and risk exposing a darkness that may consume her.

With tantalizing twists, slow-burning suspense, and a remote, rural town of just five claustrophobic miles, Bonfire is a dark exploration of the question: can you ever outrun your past?
"Some of us are out of place even when we are home."
"The problem is that people think in black and white. They think they can have the good without the bad. But everything that's good for one person is probably bad for someone else. Life isn't like the Bible says it is. It isn't a choice between good and evil. It's about choosing which evils you can stand."
"Memories are like fire, and need only a little oxygen to grow."
"Any self-help book in the world will tell you that you can't just run your past away."
After hearing much hype about this debut novel, I was more than thrilled to pick it up. I was pleasantly surprised with the mystery/thriller that Krysten Ritter provided and I think she is often being underestimated because she is an actress. The story was very intricate and took some careful planning. Ritter's pacing is quick and right to the point, which is an absolute must have in a thriller for me. The main character is smart, but lacked some development and often times fell flat for me when reading. She had potential, but I wanted to see her fleshed out more as the protagonist. I was most intrigued by Kaycee Mitchell, the girl who disappeared before the story ever started. I wanted to know more about her background and was pleased when I finally began to understand her purpose in the story.
The conclusion was somewhat what I expected and then not at the same time. Abby, the main character, starts piecing together parts of the puzzle a little at a time and then it all hits her like a pitcher of ice cold water. I must say that I love when a story ends this way. Abby works on discovering the clues as the plot unfolds and is then brought to this startling conclusion, giving readers enough time to make educational guesses towards the mystery as well. The ending was suspenseful and did not disappoint. I was pleased with the ending and felt that all my questions were successfully answered. I am ready for what's next from Kryster Ritter.
***A free copy of this book was provided to me by the publishers at Crown in exchange for my honest review***