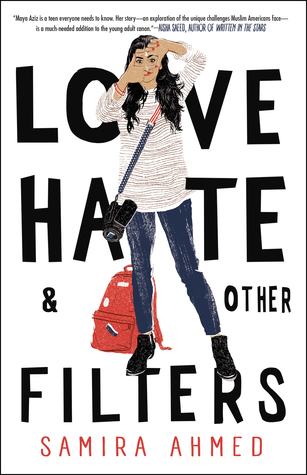 Author: Samira Ahmed
Publication Date: January 16, 2018
A searing #OwnVoices coming-of-age debut in which an Indian-American Muslim teen confronts Islamophobia and a reality she can neither explain nor escape--perfect for fans of Angie Thomas, Jacqueline Woodson, and Adam Silvera.

American-born seventeen-year-old Maya Aziz is torn between worlds. There's the proper one her parents expect for their good Indian daughter: attending a college close to their suburban Chicago home, and being paired off with an older Muslim boy her mom deems "suitable." And then there is the world of her dreams: going to film school and living in New York City—and maybe (just maybe) pursuing a boy she's known from afar since grade school, a boy who's finally falling into her orbit at school.

There's also the real world, beyond Maya's control. In the aftermath of a horrific crime perpetrated hundreds of miles away, her life is turned upside down. The community she's known since birth becomes unrecognizable; neighbors and classmates alike are consumed with fear, bigotry, and hatred. Ultimately, Maya must find the strength within to determine where she truly belongs.
I think three characters are worth talking about from this glorious new #ownvoices novel. Firstly, there's Maya Aziz, our main character. Maya is a teenage Indian-American Muslim girl growing up in a world where she fails to live up to the expectations of her parents and she faces the racial prejudices that often plague her ethnicity. Maya is just trying to follow her dreams and find a place to belong. Maya is a great leading character. She is not a strong character at first, but slowly grows into a sense of self-worth and courage. She is constantly questioning the world around her, which I think is representative of so many teens, and this was one of the main reasons why I was rooting for #teamMaya all the way.
My favorite character was her Aunt Hina, her mother's eccentric, whimsical sister. Hina was supportive of Maya's dreams even though they were not the "traditional" aspirations of an Indian-American Muslim growing up in America. Hina was an ear for Maya in times of trouble and even took up for her when her parents were being overbearing or overly sensitive. I think all teenagers need an adult that is willing to back them and teach them to have voice in a world that is constantly telling teenagers how to feel.
Lastly, I fell in love with Maya's best friend, Violet. She was also a positive support system for Maya and went against the norms for your "typical" teenager. She was spunky and rebellious and just really beat to her own drum. She never bad-mouthed Maya, but was a constant, never-changing friend to her in times of weakness and in times of utmost happiness. Now, that is a true friend – one that we all need!
Samira Ahmed covered some intense, sensitive topics in her debut novel, specifically racial prejudices and tensions. Her writing was easy to follow and tackled topics that teens need to read and understand. This novel will certainly appeal to a teenage audience, but was sophisticated and mature enough to appeal to me, as a twenty-seven year old woman, as well. The chapters are short, Maya's voice is relatable, and there is plenty of dialogue to keep a fast pace.
"These terrorists are the antithesis of Islam. They're not Muslim. Violence has no place in religion, and the terrorists are responsible for their own crimes, not the religion and not us."
"One thing I've learned: people love a camera, and when I'm filming, they see it, not me, so whenever I need to, I can quietly disappear behind my trusty shield."
"It's selfish and horrible, but in this terrible moment, all I want is to be a plain old American teenager. Who can simply mourn without fear. Who doesn't share last names with a suicide bomber. Who goes to dances and can talk to her parents about anything and can walk around without always being anxious. And who isn't a presumed terrorist first and an American second."
"During the years I lived there, on the anniversary of 9/11, I would stare out of my big picture window at the two bright shafts of light beaming up to the heavens. Toward those we lost. Mothers and daughters, fathers and sons, brothers and sisters, friends, lovers, wealthy and working class, old and young. Americans. Tourists. Those who chose to make this place their home; those born here. Muslim and Jew. Christian and Hindu. Buddhist and Atheist. Every race. Every creed. All of them, human beings."
America is changing and this book covers topics that we all need to read and face. There are parts of this book where I cringed to think just how real and crucial these conversations and thoughts that Maya was involved in were. If you have read and enjoyed The Hate U Give, I would suggest that you try this debut novel. There are moments that are full of teenage angst, but that is to be expected with a young adult novel. However, Maya is a smart, likeable character that will definitely make you think about how you are leaving your mark on the world.