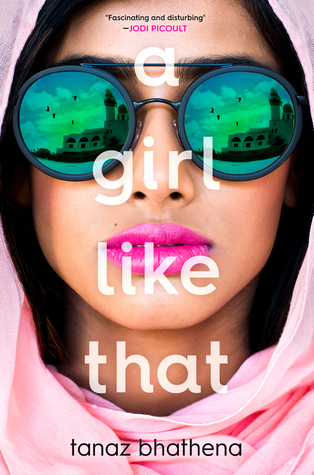 Author: Tanaz Bhathena
Publication Date: February 27, 2018
Publisher: Farrar Straus Giroux Books for Young Readers
A timeless exploration of high-stakes romance, self-discovery, and the lengths we go to love and be loved.


Sixteen-year-old Zarin Wadia is many things: a bright and vivacious student, an orphan, a risk taker. She's also the kind of girl that parents warn their kids to stay away from: a troublemaker whose many romances are the subject of endless gossip at school. You don't want to get involved with a girl like that, they say. So how is it that eighteen-year-old Porus Dumasia has only ever had eyes for her? And how did Zarin and Porus end up dead in a car together, crashed on the side of a highway in Jeddah, Saudi Arabia? When the religious police arrive on the scene, everything everyone thought they knew about Zarin is questioned. And as her story is pieced together, told through multiple perspectives, it becomes clear that she was far more than just a girl like that.

This beautifully written debut novel from Tanaz Bhathena reveals a rich and wonderful new world to readers. It tackles complicated issues of race, identity, class, and religion, and paints a portrait of teenage ambition, angst, and alienation that feels both inventive and universal.
The main character, Zarin, is not what I expected her to be at all. After reading the synopsis, I knew that she would probably be a girl with a bad reputation, but I was not predicting how sorry I would feel for her after reading her story. She was a strong girl who overcome so many bad circumstances that were out of her control to begin with. I could not imagine living and growing up in the world that Zarin did. I love books like this that make me appreciate the life I do live.
Porus, the other main character who dies in the car crash with Zarin, is compassionate and sympathetic when so many other characters in this novel are not. He sees Zarin for who she really is and not for others say about her. He sticks up for her, even when it means going against his own mother. I admired him greatly and wish he and Zarin could have had a happily ever after.
Since this book was intended for a young adult audience, I must say that the writing style is very approachable and relatable for that target age group. I enjoy a lot of dialogue, which Bhathena provides; I feel that it makes the story go faster and allows me to connect to the characters more. Because Bhathena writes about a world and culture foreign to people like me, I greatly appreciated the glossary she provided at the back of the book to help me learn all the Saudi/Indian terms that I would have never known on my own. I learned so much from the story, which is always a plus.
The book deals with some pretty intense topics: rape culture, death, abuse, and bullying. Bhathena's writing is simplistic, but moving and poignant. She covers these topics in a way that is subtle but does each of them complete justice.
The first time I smoked a cigarette, it felt I'd swallowed a piece of burning coal.
Illegitimate. Half-Hindu. Gangster's daughter. I'd heard the words before.
"You're different," he said. "Different from any other girl I know."
People came into our lives, people left.
This was not an easy book to read, but it was easily a 5 star read. It will also not be a book that I am just so anxiously waiting to pick up again just because of how intense it was and how hard some of the material was to get through. However, I do not want to dissuade anyone from reading it; stories like this need to be read and told. Young girls and young boys need to know what type of people exist in this world and where they can go for help. This story was empowering, jaw-dropping, and completely changed my world.