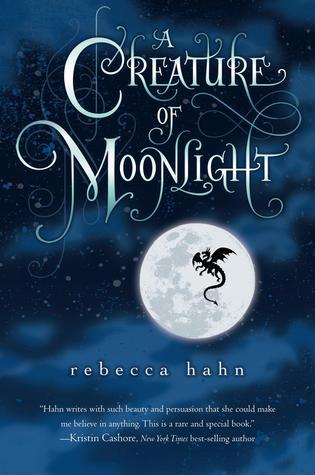 Author: Rebecca Hahn
Publication Date: May 6, 2014
Publisher: HMH Books for Young Readers
A stunning debut novel about a girl who is half dragon, half human, and wholly herself.
As the only heir to the throne, Marni should have been surrounded by wealth and privilege, not living in exile-but now the time has come when she must choose between claiming her birthright as princess of a realm whose king wants her dead, and life with the father she has never known: a wild dragon who is sending his magical woods to capture her.
Fans of

Bitterblue and

Seraphina will be captured by

A Creature of Moonlight, with its richly layered storytelling and the powerful choices its strong heroine must make.
All summer long the villagers have been talking of the woods.
But when I slip out into the trees this summer, I hear the voices singing more, and I see the lights flickering here and there, yellow and blue and green, always just at the corners of my eyes, tempting me away.
It's the girls that the woods take most often.
After finishing this book, I was left with much the same feeling that I had when I left Hogwarts: amazed and completely infatuated with anything magical and wonderful. Rebecca Hahn's debut is sure to thrill any reader with an imagination. Her main character Marni lives with her Gramps a little ways outside of the village, really close to the woods. Marni knows what happens to girls who venture off into the woods, but much like her mother she feels the call to go into the woods as well. The trees often whisper to her and as the Princess and heir to the throne, Marni must heed their call and assume the position that is rightfully hers. Of course, there are many obstacles in her way and many secrets, even ones including her own mother, lie in her path waiting to be discovered.
This book was absolutely thrilling. The mysterious woods are one of the first things that Marni speaks of, and immediately I was left intrigued and curious as to what was in them that kept calling all these young girls to leave the village. Then I learned that Marni often ventures into them, and she is not immune to the whispers from the trees. The woods are an enchanted place and made me a bit nostalgic for places like Hogwarts and Wonderland. This setting leaves you with that same feeling: full of imagination and wonder. The lure of the woods became so heavy as I read that I found myself wishing they were a real place.
I have read so many reviews of this book, staring back in early April. They all comment on the same thing: Hahn's writing style. And now I can say that I definitely see why. Hahn's writing style is so simple yet unbelievable. The smoothness of her words and the way her sentences flow makes this book incredibly easy to read. I finished the book so quickly because of her ability to mesmerize with words and imagery. This is an author that I will always follow, and I am hoping that she releases another book soon!
***A free copy of this book was provided to me by the publishers at HMH Books for Young Readers in exchange for my honest review***