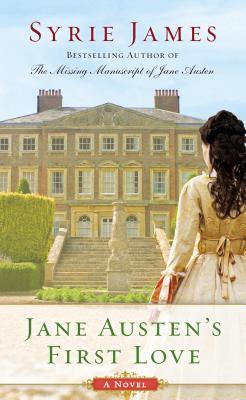 Author: Syrie James
Publication Date: August 5, 2014
Publisher: Berkley
Fifteen-year-old Jane Austen dreams of three things: doing something useful, writing something worthy, and falling madly in love. When she visits her brother in Kent to celebrate his engagement, she meets wealthy, devilishly handsome Edward Taylor—a fascinating young man who is truly worthy of her affections. Jane knows a match between her and Edward is unlikely, but every moment she spends with him makes her heart race—and he seems to return her interest. Much to her displeasure, however, there is another seeking his attention

Unsure of her budding relationship, Jane seeks distraction by attempting to correct the pairings of three other prospective couples. But when her matchmaking aspirations do not all turn out as anticipated, Jane discovers the danger of relying on first impressions. The human heart cannot be easily deciphered, nor can it be directed or managed. And if others must be left to their own devices in matters of love and matrimony, can Jane even hope to satisfy her own heart?
"I write because I cannot help it," said I.
The short stories and plays I had written were only fluff and nonsense which I composed to amuse myself and my family.
"But, Mamma! I have the whole dialogue in my head. If I stop now, I will forget! Did Shakespeare's mother interrupt his efforts with a pen? Did Mozart's father oblige him to sew gowns for his sister?"
"Dancing does not necessarily lead to matrimony."
Syrie James has quite the reputation as the queen of romance and I just want to know how I have never been introduced to her books before? After reading this four hundred page book in a day and a half, I feel that I should dive quickly into all her others. She brought Jane Austen to life for me like no other author ever has. Are you familiar with those books that make you lose track of time and forget that you haven't stopped for dinner? This is one of those books. The writing was marvelous and the characters were just as real as you and me. I have now gone to Goodreads and marked every single one of Syrie James's books. And according to all the reviews I have read on her other titles, I will not be disappointed with any of those either.
This is the story of the most incredible summer of Jane Austen's life: the summer of 1971. At the beginning of the novel, Jane receives a letter that recalls to her mind a very pivotal moment between her and the person she remembers as her true love. Jane's family is to journey to meet her brother Edward's future wife and her family. Jane is overwhelmed with joy because she if just so happy to be able to get out of their stuffy house for a while. Cassandra, Jane's sister, and Jane herself convince their parents that they must be allowed to stay here for the summer and Jane is just beside herself with all the luxuries, riches, and fine young men that lie in her path. Edward Taylor is the first one she meets on her exciting journey and it is obvious to see that he is quite smitten with our young Jane Austen.
Austen lovers will NOT be disappointed with this book. I thought it was all so well-written and very true to what we know of Jane's character. I was so impressed with how easily the author was able to place me in the time period and make me feel like I belonged. I would sit down right now and read this entire book again; it was that good! Not only did I love this book but it inspired me to go and pick up one of Austen's books from my shelves and begin rereading. I think any book that can do that deserves to be read over and over again!
***A free copy of this book was provided to me by the publishers at Berkley in exchange for my honest review***