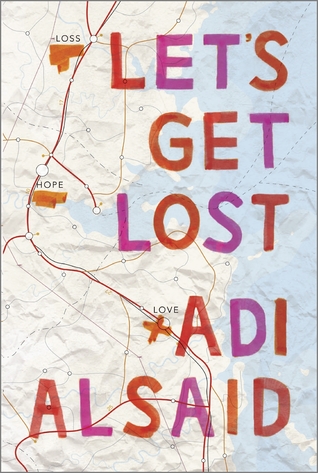 Author: Adi Alsaid
Publication Date: July 29, 2014
Publisher: Harlequin Teen
Five strangers. Countless adventures. One epic way to get lost.

Four teens across the country have only one thing in common: a girl named LEILA. She crashes into their lives in her absurdly red car at the moment they need someone the most.

There's HUDSON, a small-town mechanic who is willing to throw away his dreams for true love. And BREE, a runaway who seizes every Tuesday—and a few stolen goods along the way. ELLIOT believes in happy endings…until his own life goes off-script. And SONIA worries that when she lost her boyfriend, she also lost the ability to love.

Hudson, Bree, Elliot and Sonia find a friend in Leila. And when Leila leaves them, their lives are forever changed. But it is during Leila's own 4,268-mile journey that she discovers the most important truth— sometimes, what you need most is right where you started. And maybe the only way to find what you're looking for is to get lost along the way.
He shrugged and said, "I promised to show you a treasure."
As the car picked up speed, Bree held on to Leila's comforting hand and allowed herself to cry.
"Go," he said, still holding the pose. "You've got a quest to fulfill."
Hudson, Bree, Elliot, and Sonia are each experiencing their own set of problems that come with maturing and growing up. The one thing that all four of these people have in common is that they each encounter a girl named Leila, and Leila, in her own special way, changes each of their lives. Reading this book is like taken four different thrilling, exciting journeys because Leila changes each of their lives tremendously. Leila is one of the most free-spirted characters that I have read in a while and she in this story she is taking the road trip of her life. Along the way she meets each of the interesting people that I listed above. This book is so much more than a story about a road trip. This book is an exciting journey that will allow you to have a short vacation of your own!
Each of the characters that Leila meets up with are flawed and are facing in their lives that they do not necessarily want to. Leila comes in and acts as a partner in crime to them and serves as a guide through some of their most troubling times. I cannot really talk about Leila a lot because I do not want to spoil her character or anything about her story. Part of the fun and enjoyment of this book comes from accompanying her on her journey and discovering things with her together. None of these characters are perfect by any means, but I think that is what made them so enjoyable. Leila accepted them for who they were and did her best to guide them through some of life's most difficult trials.
This book was so much fun to read. This sounds like a really minimal sentence, but those are the best words I have to summarize this book. It is so genius in the way it is written and the way that we get to hear about each character's story and each character's time with Leila. I have never wanted to meet an author as badly as I do now. I really just want to pick Alsaid's brain apart and talk about the brilliance that is this book. This book is not some literary classic, but by the time you are finished you feel as if you have read a great masterpiece. It makes you stop and think, and really these are always the best books!
***A free copy of this book was provided to me by the publishers at Harlequin Teen in exchange for my honest review***