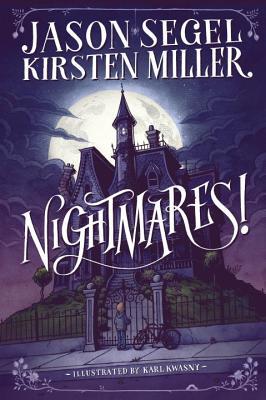 Author: Jason Segel & Kirsten Miller
Publication Date: September 9, 2014
Publisher: Delacorte Books for Young Readers
Jason Segel, multitalented actor, writer, and musician, teams up with
New York Times
bestselling author Kirsten Miller for the hilariously frightening middle-grade novel
Nightmares!,
the first book in a trilogy about a boy named Charlie and a group of kids who must face their fears to save their town.
Sleeping has never been so scary. And now waking up is even worse!
Charlie Laird has several problems.
1. His dad married a woman he is sure moonlights as a witch.
2. He had to move into her purple mansion, which is NOT a place you want to find yourself after dark.
3.He can't remember the last time sleeping wasn't a nightmarish prospect. Like even a nap.
What Charlie doesn't know is that his problems are about to get a whole lot more real. Nightmares can ruin a good night's sleep, but when they start slipping out of your dreams and into the waking world—that's a line that should never be crossed.
And when your worst nightmares start to come true . . . well, that's something only Charlie can face. And he's going to need all the help he can get, or it might just be lights-out for Charlie Laird. For good.
Charlie figured Charlotte DeChant might turn out to be interesting. And the first time Charlie laid eyes on her, he was certainly not disappointed.
It was an odd-looking building. The front porch was overrun by a jungle of potted plants. Thick green vines crept up columns, and lady ferns and blood flowers fought for every patch of moonlight.
Anyone who say it might assume that the mansion's occupants were a bit on the strange side – and yet the boy at the window appeared perfectly normal.
I was pleasantly surprised to see a well-known name on the cover of this book: Jason Segel. He is one of my favorite actors, and of course I had to see what this book was all about. This book was a nice little escape for me and was just what I needed to bring in the Halloween season. The main character, Charlie Laird, is haunted by nightmares ever since his mother passed away, and it doesn't help matters that his dad has married a new woman who lives in a big purple mansion and who Charlie believes is a witch. Segel and Miller keep the writing light, humorous, and enjoyable. Even though Charlie has his share of nightmares, this book is nothing too terrifying and contains a really good story that anyone of any age can enjoy.
The atmosphere of this book is just spooky enough to get me in the right mood for Halloween. Segel does a great job of building the mystery and suspense, especially when Charlie's nightmares start showing up in his daily life. Charlie's stepmother was a nice addition to the story and it actually one of the reasons that I could not put this book down. I was intrigued by her and the mystery and suspense written around her. The illustrations that show up on the pages were amazing, as well as the cover of the book. I guess I am just a big kid after all!
***A free copy of this book was provided to me by the publishers at Delacorte Press in exchange for my honest review***