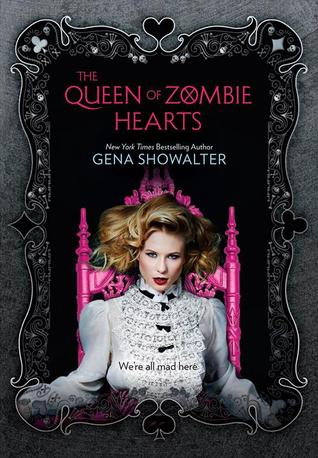 Author: Gena Showalter
Publication Date: September 30, 2014
Publisher: Harlequin Teen
Series: White Rabbit Chronicles # 3
I have a plan.
We'll either destroy them for good, or they'll destroy us.
Either way, only one of us is walking away.
In the stunning conclusion to the wildly popular White Rabbit Chronicles, Alice "Ali" Bell thinks the worst is behind her. She's ready to take the next step with boyfriend Cole Holland, the leader of the zombie slayers…until Anima Industries, the agency controlling the zombies, launches a sneak attack, killing four of her friends. It's then she realizes that humans can be more dangerous than monsters…and the worst has only begun.
As the surviving slayers prepare for war, Ali discovers she, too, can control the zombies…and she isn't the girl she thought she was. She's connected to the woman responsible for killing—and turning—Cole's mother. How can their relationship endure? As secrets come to light, and more slayers are taken or killed, Ali will fight harder than ever to bring down Anima—even sacrificing her own life for those she loves.
Considering all I'd been through, my love life should have been a sparkling diamond in a sea of coal. Or a sea of "Cole". Har har.
Slayers could produce fire; it was necessary to kill zombies. I could produce fire. When summoned, the flames crackled at the ends of our fingers. We pressed them into zombies, and the heat spread, purified, burning away evil and darkness. Eventually, zombies exploded. For some reason, I could flame from head to toe and only a moment of contact was needed to end a zombie.
"I agree with you. Now let's put on our big-girl panties and go convince Mr. Always Right that he's seriously wrong."
Another book to add to my Halloween list for this month; I am doing great so far! This is the third book in what has been an awesome zombie fighting trilogy from Gena Showalter. I have been a dedicated fan right from the start of these books. I have patiently waited each September for the next book to be released and for good reason. This book packed an adventurous punch as Ali and her crew of zombie fighting teenagers are ready to get back at it and down to business. I am not going to say much about this book as far as content because I do not want to spoil anything for people that have not read the first two books. I needed a change from all the vampire and werewolf love stories, and this supernatural series packed with zombies was just what I needed!
Ali Bell is one of my favorite characters of all-time and in order to not give away any important pieces of the book I thought it would be safe to stick with talking about her and how she makes these books what they are. This girl is completely fearless and I admire all the obstacles she has waded through since the first book. I really adore her voice and appreciate all the humor that she brings to a story about fighting flesh-eating zombies. I am happy to report that even though I loved Ali Bell in Book 1, I really admire her now. She is so much stronger now and is truly fearless. If you love chicks for fight supernatural, paranormal beings and have fun while doing it, then this series is right for you!
***A free copy of this book was provided to me by the publishers at Harlequin Teen in exchange for my honest review***