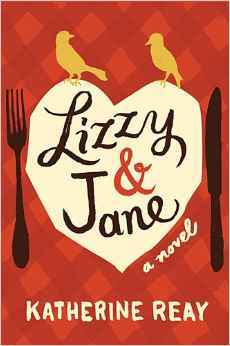 Author: Katherine Reay
Publication Date: October 28, 2014
Lizzy and Jane never saw eye to eye. But when illness brings them together, they discover they may be more like Austen's famous sisters after all.
Lizzy was only a teenager when her mother died of cancer. Shortly after, Lizzy fled from her home, her family, and her cherished nickname. After working tirelessly to hone her gift of creating magic in the kitchen, Elizabeth has climbed the culinary ladder to become the head chef of her own New York restaurant, Feast. But as her magic begins to elude her, Paul, Feast's financial backer, brings in someone to share her responsibilities and her kitchen. So Elizabeth flees again.
In a desperate attempt to reconnect with her gift, Elizabeth returns home. But her plans are derailed when she learns that her estranged sister, Jane, is battling cancer. Elizabeth surprises everyone—including herself—when she decides to stay in Seattle and work to prepare healthy, sustaining meals for Jane as she undergoes chemotherapy. She also meets Nick and his winsome son, Matt, who, like Elizabeth, are trying to heal from the wounds of the past.
As she tends to Jane's needs, Elizabeth's powers begin to return to her, along with the family she left behind so long ago. Then Paul tries to entice her back to New York, and she is faced with a hard decision: stay and become Lizzy to her sister's Jane, or return to New York and the life she worked so hard to create?
One misstep can kill a New York restaurant.
"That's what I'm chasing. My life."
"Dare to imagine something new."
I have looked forward to nothing more than the follow-up to Katherine Reay's 2013 debut. Katherine's book are anything but ordinary and burst full of that Austen-esque writing that we are know and love. This story is very different from the first and focuses around sisters, Lizzy & Jane. These two sisters have been at odds since their mother's death, until Lizzy, fed up with her work in a busy New York restaurant, decides to venture out west to visit her father and her sister, Jane. Now that Jane is suffering from cancer as well, Lizzy thinks it is time to put the past behind her and get back to what really matters in life. Katherine did a magnificent job writing the relationship between these two sisters. She is truly a wonderful storyteller.
Any Jane Austen fan will appreciate Reay's writing because of her originality. Even though her stories are meant to be reminiscent of Austen's novel, they are still very different in their plot and characters. Her novels evoke such feelings of warmth that you just cannot resist to curl up on the couch with a hot cup of cocoa. This story is more emotional than the first but it was nice to see a different side of Katherine's ability as an excellent writer. Lizzy's career as a chef made for a nice added detail because of the sensory details that came along with all the food talk. If you are looking for a fast-paced book to pass a cold night, then look no further.
***A free copy of this book was provided to me by the publishers at Thomas Nelson in exchange for my honest review***