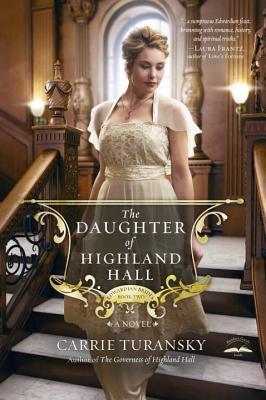 Author: Carrie Turansky
Publication Date: October 7, 2014
Publisher: Multnomah Books
Series: Edwardian Brides # 2
Fans of Downton Abbey, Jane Eyre, and Pride & Prejudice will enjoy this pure and inspiring romance taking place in Edwardian England amid a clash of cultures and changing times.

Eighteen-year-old Katherine Ramsey travels to London with her family to make her debut into society and hopefully find her future husband. Her overbearing aunt insists she must secure a proposal from a wealthy young man who is in line to inherit his father's title and estate. But Katherine questions her aunt's plans when she gets to know Jonathan Foster, a handsome medical student and strong Christian who is determined to protect the poor and vulnerable in London's East End. When a family scandal puts a damper on Katherine's hopes for the season, she has time to volunteer with Jonathan, caring for children in one of London's poorest areas, and romance blossoms. Katherine's faith grows and she begins to envision a different future with Jonathan. But when Katherine's work in the East End puts her in danger, Jonathan distances himself from Katherine to protect her. A wealthy suitor reappears, and Katherine must choose which path to follow.
If she lived to be one hundred and five, Katherine Evangeline Ramsey would never understand why every debutante must begin the London social season by curtsying to the king and queen.
When he married, if he married, it would be to someone who shared his values and goals.
Dressed in her white satin presentation gown, with an abundance of petticoats, lace, and beading, she looked like a princess. In three hours she would face the king and queen and step into her future as a debutante.
I became obsessed with the Edwardian Era when I started watching Downton Abbey about two years ago. Ever since that time I have searched high and low to find books that remind me of the people, time period, and all the glamour that the 1920's produced for the wealthy. This is another book that will sit upon my shelf and will forever connect me back to the beauty and elegance of Downton Abbey. In this time, girls of wealth were presented to society during the spring, in hopes of being engaged at the end of the summer season. Katherine Ramsey, our heroine in this tale, is no different. Her aunt is dedicated and determined to find Katherine a mate and a mate with a sizeable fortune. However, the man that Katherine's aunt seems to have picked is nothing like what she would want or hope for, but her aunt feels that with his wealth she should be able to overlook a few flaws.
Katherine's character was the most memorable thing about this book to me. At first she does not think to disagree with her aunt, but then starts to question her possible fiancé. Shouldn't a man's character count for something? What about true, real love? I came to adore and respect Katherine for her thoughts because in a time like this, as a young woman, you just did what you were told and asked no questions. Katherine is determined to change things. Katherine begins to bury herself in the Bible and try to understand God's purpose, and she quickly realizes that she needs a man who is willing to do the same.
Carrie's novel is filled with descriptive details about the homes, the fashion, and the lifestyles of the Edwardian Era. It is always so nice to take a trip back in time and imagine myself there as well. This book is part of a series that I did not even know existed until this year. The first book was released last year and the next book will be released next October. These books can stand alone, but I am hearing that they are even better if you read them in order. I believe our main character in this book appears in the first!
***A free copy of this book was provided to me by the publishers at Multnomah Books and Litfuse Publicity Group in exchange for my honest review***