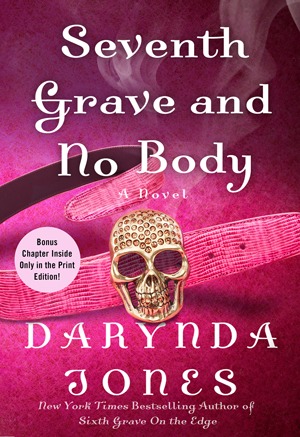 Author: Darynda Jones
Publication Date: October 21, 2014
Publisher: St. Martin's Press
Series: Charley Davidson # 7
Twelve. Twelve of the deadliest beasts ever forged in the fires of hell have escaped onto our plane, and they want nothing more than to rip out the jugular of Charley Davidson and serve her lifeless, mangled body to Satan for dinner. So there's that. But Charley has more on her plate than a mob of testy hellhounds. For one thing, her father has disappeared, and the more she retraces his last steps, the more she learns he was conducting an investigation of his own, one that has Charley questioning everything she's ever known about him. Add to that an ex-BFF who is haunting her night and day, a rash of suicides that has authorities baffled, and a drop-dead sexy fiancé who has attracted the attentions of a local celebrity, and Charley is not having the best week of her life.
A tad north of hell, a hop, skip, and a jump past the realm of eternity, is a little place called Earth, and Charley Davidson, grim reaper extraordinaire, is determined to do everything in her power to protect it.
"I often question my sanity. Occasionally it replies."
"Of course I'm an organ donor. Who wouldn't want a piece of this?"
"Are you ready?" she asked, whispering. "Ready as a drunk virgin on prom night."
"If I'm upset, hold me and tell me how beautiful I am. If I growl, retreat to a safe distance and throw chocolate. BEST. ADVICE. EVER."
Fans of Darynda Jones and Charley Davidson already know the deal when it comes to this fabulous series of books. This was actually the very series that got me interested in anything paranormal. I picked this series up years ago, and even now I am still loving where Darynda is taking things and her writing never ceases to amaze me, and after seven books in one series I think this says a lot. Charley Davidson is her usual confident, smart, funny self and one of my favorite characters of all time. Charley's character does not often make huge progressions until this installment and the one before it, at least I don't feel that she does, but her snarky, humorous personality more than makes up for it. She is everything I could ever want in a bookish best friend!
Charley's sidekick characters like Cookie and the ever hot and steamy Reyes are part of what makes these stories as well. Without these characters the stories would not be the same. While Charley is a pivotal character, I would argue that many of the secondary characters are just as pivotal as our lead heroine. I felt that with this book, more than any of the rest, I was either laughing or crying. Emotions ran high because of several expected and unexpected happenings! As always, Darynda Jones both shocked and amazed me with some of her plot twists and developments. You will definitely want to start with book one in this series, and I promise you will not be disappointed. I am already anxious for book eight!
***A free copy of this book was provided to me by the publishers at St. Martin's Press in exchange for my honest review***