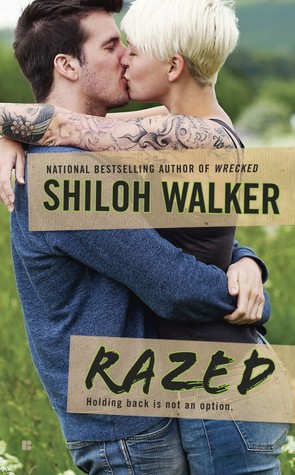 Author: Shiloh Walker
Publication Date: December 2, 2014
Series: Barnes Brothers # 2
Tattoo artist Keelie Jessup can handle that someone else has claimed the man of her dreams. She's just not pleased with her remaining options…


Keelie doesn't believe in the "perfect man." But the men who are worth the trouble are usually taken—like her business partner Zach Barnes. After a string of bad luck and the lost chance with Zach, Keelie decides that maybe flying solo—and living with suppressed desires—is the key to happiness.

As a photographer, Zane Barnes has an eye for the human form, and his eyes can't get enough of Keelie's curves. Unfortunately, Keelie is like most women—always fawning over his little brother, Zach. Zane is about ready to give up, but then a few stolen moments at his brother's wedding have him thinking maybe there's a chance there after all. Now he just has to prove that the perfect man does exist…for her.
It took more restraint than Zane thought he had not to pull her closer.
Zane gave himself ten seconds to start after her as she headed down the hall. Ten seconds, because if he didn't, he'd be looking for her the entire time he was there, and he knew it.
Zane snorted. "Unlike you, superstar, I don't need to make myself pretty for a date. I already am pretty."
Although I have not read the first book in this series, I am very eager to do so after reading Keelie and Zane's story. Keelie and Zane have a bit of a past together, no matter how mall it may be, and it was interesting to see their story play out nice and slowly. They both had a few things to get past before either of them were ready for a real, committed relationship. I tend to like stories where the heroine is pieced back together by the male protagonist. Keelie had a big secret that gets revealed later in the novel, and Zane takes part in piecing back together all of her broken pieces, most of which revolve around her secret. Even though I could predict most parts of the story, I was still very pleased with the character development and the way that the characters seemed to come alive in each other's presence.
I absolutely loved the fact that their work in a tattoo shop bonded both Keelie and Zane. Keelie did not fit your average every day girly girl heroine. I loved that she was a little rough around the edges and had quite a bit of grit to her character. The fact that we know that these characters have known each other for a while, Zane actually has liked Keelie for quite some time, made these characters much easier to relate to. Plus, who doesn't like to picture their lead characters in tattoos? This book will have you reading so fast because you are that enthralled with the words and tension and will also cause you to read slowly because you dread seeing these characters go.
***A free copy of this book was provided to me by the publishers at Berkley in exchange for my honest review***