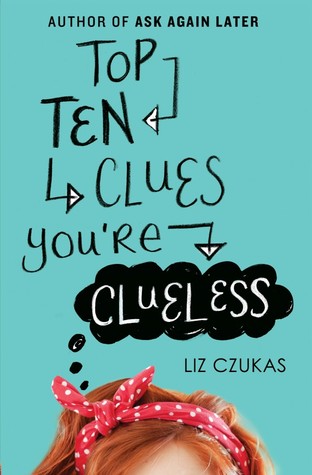 Author: Liz Czukas
Publication Date: December 9, 2014
Top Five Things That Are Ruining Chloe's Day
5) Working the 6:30 a.m. shift at GoodFoods Market
4) Crashing a cart into a customer's car right in front of her snarky coworker Sammi
3) Trying to rock the "drowned rat" look after being caught in a snowstorm
2) Making zero progress with her crush, Tyson (see #3)
1) Being accused—along with her fellow teenage employees—of stealing upwards of $10,000
Chloe would rather be anywhere than locked in work jail (aka the break room) with five of her coworkers . . . even if one of them is Tyson. But if they can band together to clear their names, what looks like a total disaster might just make Chloe's list of Top Ten Best Moments.
The trouble with "Feliz Navidad" is that everyone hates it, but you can't stop yourself from singing it.
I swear, I must be missing some crucial part in my brain that tells my mouth to stop moving.
"Besides, someone's got to have some attitude around here."
How can I have so many bits of information and still be so clueless?
I have another perfect and cozy little tale to share with you right here at the holidays. Chloe's story takes place on Christmas Eve in a grocery store right in the middle of all the holiday rush. This book had me laughing out loud and made me realize the pure perfection that can come from making lists. In fact, I could make a list of reasons why you will love this story, but I won't. I will leave all the list making to Chloe. I love books that are written in the format of a diary, letters, or in this case, lists. Chloe makes a lot of them and it made connecting with her character even easier for me. Chloe is really made out to be a real teenager. Her thoughts are sometimes scattered, she is a little random, and she has one of the biggest crushes ever on a co-worker. This book was made by Chloe's characters and all of her fantastic lists.
But in all seriousness, Chloe and the amazing cast of characters behind her are all worth picking up this book for. There is romance and so many laugh out loud moments that you would be crazy to pass this book up. There is a little mystery and an overarching theme of friendship, which I think anyone can benefit from reading. Most importantly, this book is light, fluffy, and totally addictive. Sometimes we all just need a break from our overworked and stressful lives. Chloe helped me relax by giving me so much to laugh at in her crazy story that takes place in the span of one day! This would make a perfect gift this Christmas season!
***A free copy of this book was provided to me by the publishers at Harper Teen in exchange for my honest review***