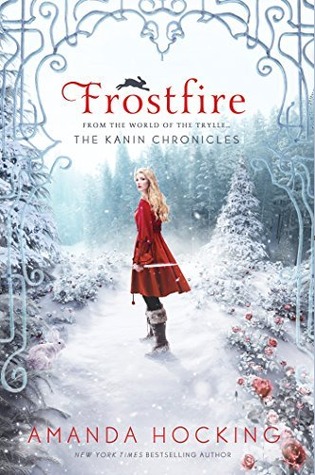 Author: Amanda Hocking
Publication Date: January 6, 2015
Publisher: St. Martin's Griffin
Series: Kanin Chronicles # 1
Bryn Aven is an outcast among the Kanin, the most powerful of the troll tribes.
Set apart by her heritage and her past, Bryn is a tracker who's determined to become a respected part of her world. She has just one goal: become a member of the elite King's Guard to protect the royal family. She's not going to let anything stand in her way, not even a forbidden romance with her boss Ridley Dresden.
But all her plans for the future are put on hold when Konstantin– a fallen hero she once loved – begins kidnapping changelings. Bryn is sent in to help stop him, but will she lose her heart in the process?
He'd tried to kill my dad, and now I would stop at nothing until he was brought to justice.
"Things are far more complicated than they seem."
"Sorry, I should be letting you get on your way," Konstantin said apologetically, and my heart sank when I realized this brief exchange would soon end, leaving me feeling even more like Cinderella than ever before.
This is my second series by Amanda Hocking, and honestly the woman hasn't written a book that I have disliked yet. I must say that I more excited for this series than the previous one I read by her, however. Something about Bryn Aven's story just wrapped me in right from the beginning and wouldn't unhand me until the very last page. Bryn is a tracker and it is her job to return changelings back to their parents and help them adjust to a normal life in their new surroundings. Bryn is an exceptional character because right from the start readers can see that she is a rebel and does not necessarily believe in everything that her king and queen would like her to. Bryn immediately struck me as a character that I would love and appreciate and I do, mostly because of her bravery and honesty.
Bryn's world is full of royalty, secrets, power, adventure, and even a little romance. I am a huge fan of world building and I tend to never get bored of it, so of course I was in love with this first book in what I am sure will be an exciting new series. Hocking's work is utterly fascinating in my eyes; she can go from one fantastical world to another and give readers so many new and exciting characters to love and adore. Plus, if you love inspiring heroines, then Bryn is sure to be a character that stays with you long after you have put the book down. If you are interested in all I have said so far, then you might also be interested to know that the rest of this series is releasing this year! No long waits!
***A free copy of this book was provided to me by the publishers at St. Martin's Griffin in exchange for my honest review***