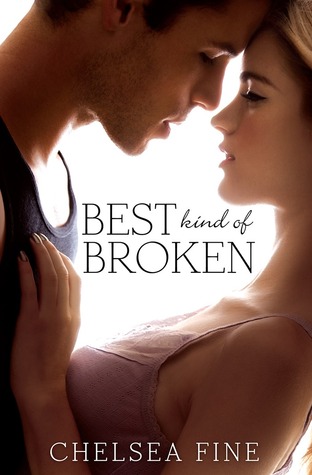 Author: Chelsea Fine
Publication Date: January 13, 2015
Publisher: Grand Central Publishing
Pixie Marshall wishes every day she could turn back time and fix the past. But she can't. And the damage is done. She's hoping that a summer of free room and board working with her aunt at the Willow Inn will help her forget. Except there's a problem: the resident handyman is none other than Levi Andrews. The handsome quarterback was once her friend-and maybe more-until everything changed in a life-shattering instant. She was hoping to avoid him, possibly forever. Now he's right down the hall and stirring up feelings Pixie thought she'd long buried . . .

Levi can't believe he's living with the one person who holds all his painful memories. More than anything he wants to make things right, but a simple "sorry" won't suffice-not when the tragedy that scarred them was his fault. Levi knows Pixie's better off without him, but every part of him screams to touch her, protect her, wrap her in his arms, and kiss away the pain. Yet even though she's so close, Pixie's heart seems more unreachable than ever. Seeing those stunning green eyes again has made one thing perfectly clear-he can't live without her.
"And I am yours," she says quietly. "Even when you don't want me. I'm still yours."
"You are not my friend, Pixie. You are a piece of my heart and a part of who I want to be."
"Because love isn't something that needs to be said out loud!" Her face flushes with passion. "It's something you just know. It's an unspoken thing. It's humble and quiet and constant…" She goes back to slaughtering the mushrooms, but lowers her tone a bit. "I mean, you can't just say you love someone and make it true. That's not how it works. Real love doesn't need to be declared or confessed. Real love just… is. You know?"
"Winning is an effect of trying. You have to want it badly enough to go through pain, discipline, and failure to find it. To confront it. To claim it. But most of all, you have to fight for it. Everything else—anything else—is absolute surrender."
A love story that is perfect for Valentine's Day! Pixie, Sarah to people who don't know her well, and Levi have a history together. They were both involved in an accident that caused them to lose someone that they both held near and dear, Pixie's best friend and Levi's sister. They both blame themselves for what happened that night and neither can get past it enough to realize how perfect they are for one another. So when Pixie returns home to work for the summer in her Aunt Ellen's inn and moves in next to the inn's other live-in Levi, you can imagine all the memories, both good and bad, that were rekindled between these two. What I loved most about this New Adult love story is that feelings were not instant between Pixie and Levi; they had to work to get past differences and see the good in each other.
The beauty of this story is that it is written in alternating point of views. I loved being able to see and hear both Pixie and Levi's thoughts. They are both obviously broken, hence the title, but it is nice to watch them work through their brokenness and learned to be healed and help each other heal. The fact that I knew these characters shared a tragic event allowed me to sympathize with them even more. I have found a new favorite author in Chelsea Fine; she writes characters, sexual tension, and emotions in a way that will have you missing this story long after you have finished reading it. I will definitely pursue the other books in this series to be released this year.
***A free copy of this book was provided to me by the publishers at Forever in exchange for my honest review***