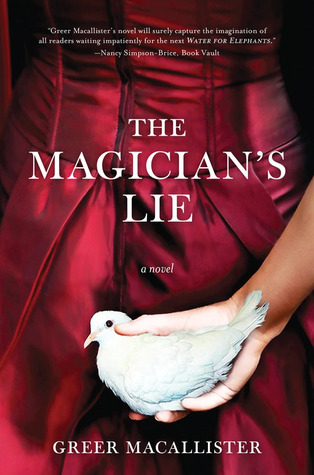 Author: Greer Macallister
Publication Date: January 13, 2015
Publisher: Sourcebooks Landmark
Water for Elephants meets The Night Circus in The Magician's Lie, a debut novel in which the country's most notorious female illusionist stands accused of her husband's murder --and she has only one night to convince a small-town policeman of her innocence.
The Amazing Arden is the most famous female illusionist of her day, renowned for her notorious trick of sawing a man in half on stage. One night in Waterloo, Iowa, with young policeman Virgil Holt watching from the audience, she swaps her trademark saw for a fire ax. Is it a new version of the illusion, or an all-too-real murder? When Arden's husband is found lifeless beneath the stage later that night, the answer seems clear.
But when Virgil happens upon the fleeing magician and takes her into custody, she has a very different story to tell. Even handcuffed and alone, Arden is far from powerless—and what she reveals is as unbelievable as it is spellbinding. Over the course of one eerie night, Virgil must decide whether to turn Arden in or set her free… and it will take all he has to see through the smoke and mirrors.
"Life is always better than death. Always. No exceptions."
"But this is life, and when bad things come to us, there isn't much choice. You survive them or you don't."
Time would tell, in any case.
If we didn't acknowledge things that we didn't want to be true, we could keep them hidden in the dark. I'd learned that at my mother's knee, after all.
Captivating. Truly captivating. This murder mystery involving the female illusionist, Arden and her recently deceased husband, is a historical fiction novel to be reveled among the best of the year, I am sure. The story did not start or go how I expected it to, but the fluidity of it all was marvelous. Macallister drops readers right into the action and works backward as she switches the point of view between Arden and the Officer that arrested her, Officer Holt. Arden quickly begins in telling the story of her childhood and moves into her adult life; some readers did not appreciate this at all, but I found her knack for storytelling both mysterious and suspenseful, but I could see why others would get bored with it easily. Between Arden's various flashbacks, the story weaves in the interrogation and how Arden and her husband came to know one another. I haven't read anything quite this captivating in a while.
Arden appears to be so mysterious and completely unpredictable; however, there are times when her character is completely vulnerable and you cannot believe that you are reading about the same person. I questioned over and over in my mind as I read if I really believed Arden's story or not. She was handcuffed while talking to this officer, for what felt like years, and I was constantly questioning why a famous illusionist would allow herself to be handcuffed? Arden truly had me puzzled at times and I loved feeling that way; I did not know what to expect from her next. I highly recommend this book to be added to your 2015 reading list.
***A free copy of this book was provided to me by the publishers at Sourcebooks Landmark in exchange for my honest review***