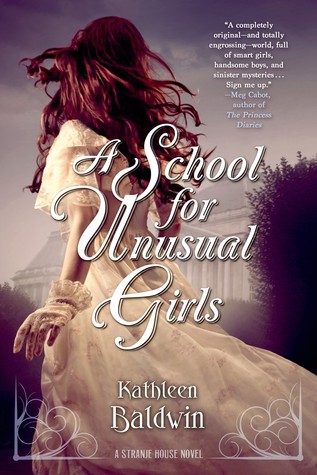 Author: Kathleen Baldwin
Publication Date: May 19, 2015
Series: Stranje House # 1
It's 1814. Napoleon is exiled on Elba. Europe is in shambles. Britain is at war on four fronts. And Stranje House, a School for Unusual Girls, has become one of Regency England's dark little secrets. The daughters of the beau monde who don't fit high society's constrictive mold are banished to Stranje House to be reformed into marriageable young ladies. Or so their parents think. In truth, Headmistress Emma Stranje, the original unusual girl, has plans for the young ladies—plans that entangle the girls in the dangerous world of spies, diplomacy, and war.
After accidentally setting her father's stables on fire while performing a scientific experiment, Miss Georgiana Fitzwilliam is sent to Stranje House. But Georgie has no intention of being turned into a simpering, pudding-headed, marriageable miss. She plans to escape as soon as possible—until she meets Lord Sebastian Wyatt. Thrust together in a desperate mission to invent a new invisible ink for the English war effort, Georgie and Sebastian must find a way to work together without losing their heads—or their hearts...
Husbands do not want odd ducks like me. Being exceptional is a curse. A curse I bear.
I care less than a fig for society's good opinion.
I had no idea what Napoleon intended to do about his imprisonment on Elba, but as for me, I planned to escape.
A School for Unusual Girls
had a little bit of everything that I love in a book; Regency England, a boarding school for girls, dark secrets, and characters that jump off the page at the reader. I was reminding of so many different books while reading this one. It feels like stepping inside a Jane Austen novel with hints of any number of Gail Carriger's books inside its pages as well. The School for Unusual Girls is seen to the outside world as a corrective institution for young women; it serves as a place that instructs and trains young girls how society wants them to behave. However, on the inside the school is led and governed by Headmistress Emma Stranje, the original unusual girl, and she has plans far beyond etiquette and proper manners for these young women. Within the first few pages, our heroine, Georgiana, finds herself becoming the newest addition to the school because of her past actions.
The beginning of the book has a bit of a slow start, mainly because we are following Georgie around whilst she becomes acquainted with the school and her new peers. However, do not let this lull scare you because the action and adventure picks up and carries you swiftly away. By the time you get past the first few chapters, you will find yourself getting through this book so quickly that you don't remember how it happened. It was such a treat meeting all of the girls that are staying in Stranje House. They all have specific things that set them apart from the rest and each of them have fabulous back stories that landed them in Stranje House in the first place. If you love Regency England, historical fiction, and stories about young rebellious girls, then you will love this brand new series!
***A free copy of this book was provided to me by the publishers at Tor Teen in exchange for my honest review***