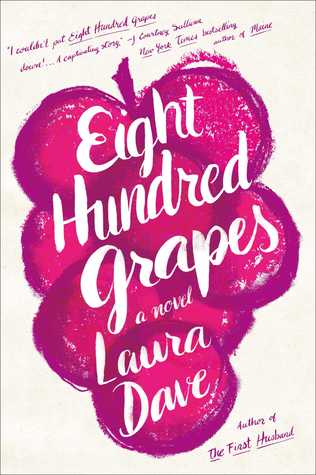 Author: Laura Dave
Publication Date: June 2, 2015
Publisher: Simon & Schuster
There are secrets you share, and secrets you hide…
Growing up on her family's Sonoma vineyard, Georgia Ford learned some important secrets. The secret number of grapes it takes to make a bottle of wine: eight hundred. The secret ingredient in her mother's lasagna: chocolate. The secret behind ending a fight: hold hands.
But just a week before her wedding, thirty-year-old Georgia discovers her beloved fiancé has been keeping a secret so explosive, it will change their lives forever.
Georgia does what she's always done: she returns to the family vineyard, expecting the comfort of her long-married parents, and her brothers, and everything familiar. But it turns out her fiancé is not the only one who's been keeping secrets…
Synchronization. To operate in union. On a vineyard, synchronization meant watching and waiting until everything lined up. You didn't step in too quickly. You also didn't step out.
"So that's what you're trying to do?" my mother said. "Stop the people you love from doing what they'll regret?" "Yes. Exactly." She kissed the inside of my palm. "But which way is regret?"
"Thing is, whatever's going on with Ben, it's okay to walk away. It's also okay to get over it. The two of you have built a great life together, that matters too, it matters as much as whatever is going on that has made you doubt him."
"Someone needs to get married under that sailcloth tent, it is too beautiful to waste."
MY. FAVORITE. BOOK. OF. SUMMER. I absolutely loved this book if the first few words didn't give that away. It took me less than 24 hours to finish this book and I found myself trying to find any spare moment that I could to steal away and read for just a few minutes. It all starts with Georgia Ford running away in her wedding dress and readers are left to wonder why and what happened. We quickly learn Georgia's story and what happened between her and her fiancé, Ben. Georgia runs home to Sonoma County to her the beloved vineyards where she spent her childhood hoping to find solace in the arms of her parents. However, when she arrives she realizes that she is not the only Ford sibling with issues; even her parents are keeping secrets from her. Georgia has a lot more issues to face than she thought and going home was just what she needed to start putting her life back together again.
I absolutely loved the mood that this book put me in. I loved learning about the vineyards and the wine making process. Laura Dave really did her research about the latter; I was so fascinated reading about all of it because I don't know about you guys, but I love my wine! The Last Straw Vineyard felt just like home for me. I loved it when Georgia was with her twin brothers, Bobby and Finn. They had the best sibling bond and I loved the dialogue they shared the most. Georgia's love life is complicated and not really predictable. There is one point in the book where you will probably pause and try to understand or figure what she will end up doing. This book would be a great beach read, or just like I did, a curl up on the couch read! I am looking forward to much more from Laura Dave!
***A free copy of this book was provided to me by the publishers at Simon & Schuster in exchange for my honest review***