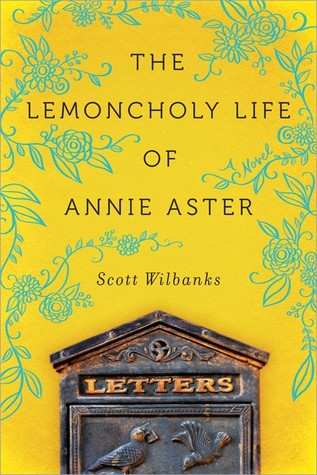 Author: Scott Wilbanks
Publication Date: August 4, 2015
Publisher: Sourcebooks Landmark
Annabelle Aster doesn't bow to convention—not even that of space and time—which makes the 1890s Kansas wheat field that has appeared in her modern-day San Francisco garden easy to accept. Even more peculiar is Elsbeth, the truculent schoolmarm who sends Annie letters through the mysterious brass mailbox perched on the picket fence that now divides their two worlds.
Annie and Elsbeth's search for an explanation to the hiccup in the universe linking their homes leads to an unsettling discovery—and potential disaster for both of them. Together they must solve the mystery of what connects them before one of them is convicted of a murder that has yet to happen…and yet somehow already did.
In polite company, she was known as Annabelle Aster. Being a spirited woman, however, she wasn't often found in such company, as she'd determined it to be, more often than not, insincere. And also being a sincere woman in every particular, Annie chose her company for the quality of its character, not its rank.
Elsbeth Grundy was a loner, and an odd one at that, but company was headed her way whether she liked it or not.
Finally, she smiled. "It means we have a rescue project."
Do you know those books that just grab you and pull you in from the very first paragraph and never let you go? Yes, well this is one of those precious gems. After reading the synopsis, I expected to enjoy the story, but I REALLY enjoyed the story. The story shares two women's adventure as they live a century apart from one another, only connected by a letterbox and a magical door, oh, and the giant wheat field that separates their home – you will have to read the book to find the humor in that! Annie Aster lives in 1995 and is a bit eccentric, but a truly amazing character to follow. Annie is fascinated by her connection with Elsbeth, who is living in 1895, and quickly wants to get to the bottom of their correspondence. Annie soon learns that the door she had installed in her kitchen could be the cause of this convenient time-hop that is happening in her backyard. After doing her research, Annie finds herself dealing with a murder mystery, and a murder mystery that Elsbeth, still in 1895, might just be able to help her prevent!
Some authors just have a truly remarkable gift; they can make you fall in love with a story, its characters, and its magical tale just by describing something as small as a letter, wheat field, or Victorian wardrobe. Scott Wilbanks, you have that talent. So much detail is written with the pages of this little treasure. I did not want to finish this book for fear that I would miss it too much. Annie Aster was easily my favorite character and had so much thought behind her character development that it was quite apparent from just a few chapters in. I can tell that he spent time with these characters and their stories; they are unbelievable! I look forward to so much more from this author; this story is full of mystery, suspense, romance, magical realism, and twists and turns around every hidden corner!
***A free copy of this book was provided to me by the publishers at Sourcebooks Landmark in exchange for my honest review***