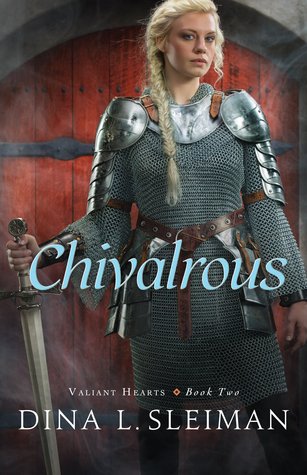 Author: Dina L. Sleiman
Publication Date: September 8, 2015
Publisher: Bethany House
Series: Valiant Hearts # 2
Strong and adventurous Gwendolyn Barnes longs to be a knight like her chivalrous brothers. However, that is not an option for her, not even in the Arthurian-inspired Eden where she dwells. Her parents view her only as a marriage pawn, and her domineering father is determined to see her wed to a brutish man who will break her spirit.

When handsome, good-hearted Allen of Ellsworth arrives in Edendale searching for his place in the world, Gwendolyn spies in him the sort of fellow she could imagine marrying. Yet fate seems determined to keep them apart. Tournaments, intrigue, and battles--along with twists and turns aplenty--await these two as they struggle to find love, identity, and their true destinies.
"Brave Warriors, as we commence the game today, be honorable, be courageous, be chivalrous, and be strong. But most of all, go hand in hand with the God of all creation."
"I prefer to think of a man and woman standing side by side, offering mutual support."
"I do not wish to watch a tournament. I wish to fight in one."
Gwendolyn Barnes is ready to be free from her father's constraints and most of all free from his hopes of landing her in a secure, lasting marriage. Gwendolyn wants things her way and wants the freedom and adventures that her brothers have. She is not at all interested in being "tamed" by some man, nor will she settle for it. Her life is only begun, so when she gets the chance to disguise herself as a knight and enter a jousting tournament to prove her true strength, she jumps at it. However, she soon discovers that her opponent is Sir Allen of Ellsworth, the only man whom she has ever found herself enamored with – will she be able to go through with this? Can she walk away from this handsome, valiant knight and lead a life without love or happily ever after?
If you missed the first book in this series, do yourself a favor and get them both! I loved the first one – Dauntless – but I must say that I found myself even more wrapped up in Gwendolyn's story. I loved the historical background in this book – all the talk of knights and jousting made me long for more medieval stories. Gwendolyn's desire to become a knight instead of someone's trophy wife was powerful and her character was brave beyond words. These books send really strong messages about courageous females surpassing the social norms that were placed on them during the times in which they lived. I love a strong, independent heroine. Gwendolyn was the cherry on top of the pie for me!
However, Sir Allen is not without his many affluent virtues – he and Gwendolyn together made a perfect pair. Their interest in one another turns into a massive adventure when they concoct a plan to try and overthrow the kingdom. They were a perfect match and their many character traits complimented one another. There is so much in this book to love: the plot, the characters, their roles in society, the adventure, and the ending! I cannot wait for more from Dina!
***A free copy of this book was provided to me by the publishers and the author, Dina L. Sleiman in exchange for my honest review***