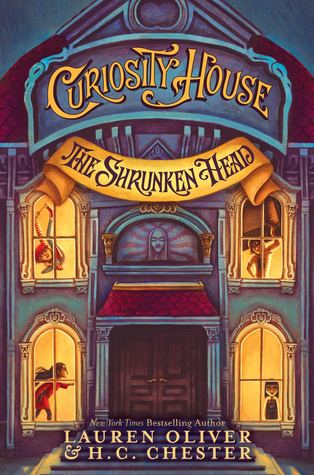 Author: Lauren Oliver & H.C. Chester
Publication Date: September 29, 2015
Publisher: HarperCollins Children's Books
Series: The Curiosity House # 1
What you will find in this book:

– A rather attractive bearded lady
– Several scandalous murders
– A deliciously disgusting Amazonian shrunken head
– Four extraordinary children with equally extraordinary abilities
– A quite loquacious talking bird

Blessed with extraordinary abilities, orphans Philippa, Sam, and Thomas have grown up happily in Dumfrey's Dime Museum of Freaks, Oddities, and Wonders. But when a fourth child, Max, a knife-
thrower, joins the group, it sets off an unforgettable chain of events. When the museum's Amazonian shrunken head is stolen, the four are determined to get it back. But their search leads them to a series of murders and an explosive secret about their pasts.

This sensational new series combines the unparalleled storytelling gifts of Lauren Oliver with the rich
knowledge of the notorious relics collector H.C. Chester.

What you will NOT find in this book:

– An accountant named Seymour
– A never-ending line at the post office
– Brussel sprouts (shudder)
– A lecture on finishing all your homework on time
– A sweet, gooey story for nice little girls and boys.
"Ladies and gentlemen, boys and girls: step right up and don't be shy. You must not – you absolutely cannot! – put this book down.
"What museum, you ask? But surely you've heard already. You see, within these pages is a museum, and within the museum is a story of wondrous weirdness, of magic and monsters…and of four of the most extraordinary children in the world."
"And now, ladies and gentlemen, boys and girls, children of all ages: welcome to Dumfrey's Dime Museum of Freaks, Oddities, and Wonders."
I need more middle grade fiction in my life! I have loved every single middle grade book that I have ever read that has been published by Harper Collins. Not to mention, I love Lauren Oliver and any book of hers is on my must read list. This story follows a group of four quirky kids: Max, Pippa, Sam, and Thomas. They live and work at Mr. Dumfrey's Dime Museum, where they showcase their unusual talents. Their employer has recently acquired a shrunken head that has business booming and has added a rather cheerful smile to Mr. Dumfrey's face. All is well in the world, until the head, which is quite possibly cursed, turns up missing. Mr. Dumfrey is facing bankruptcy and these four eccentric, yet loving children cannot stand to see their employer and guardian go down without a fight. They decide to take matters into their hands and work together to try and solve the case and determine who has stolen the head before the doors to Mr. Dumfrey's Dime Museum are closed forever.
Each of the children bring their own unique and interesting characteristics and talents to this wonderful tale. Each chapter was told from a different perspective, with all four of these children being able to share their side of the story. There were so many twists and turns as I read; I thought I would be able to predict what was coming next and then the authors clearly knocked my socks off and threw another murder at me. Yes, there are multiple murders! I thought I had the thieves and murderers picked out, but yep, you guessed it, wrong again! I fell in love with each of these characters and could honestly not say which my favorite is. I cannot wait for the next book in this series and to meet up with all of their familiar faces once again!
***A free copy of this book was provided to me by the publishers at Harper Collins in exchange for my honest review***